Blanche Burley / Cole
Blanche's mother, Charlotte Bell, married Richard (Dick) Burley in London. Blanche was born at Islington, London on the 11th of December 1870. The following year the family emigrated to Napier, New Zealand. Dick's parents followed them out sometime later. Charlotte's sister Isabella arrived in Napier in 1874.
Charlotte and Dick produced eight children, naming the first five alphabetically: Amy, Blanche, Constance (known as Minnie), Dharma and Ethel. They christened the last three May, Claude and Violet (known as Vi).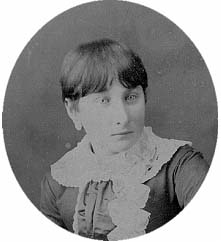 Amy and Blanche were four and two years of age respectively when they arrived with their Mother in Napier on the sailing ship Ballarat, 15 September 1872. The rest of the children were born in New Zealand. Blanche remembered being the centre of attention with the sailors on board ship as she sat on her potty, tilting from side to side to stay upright with the movement of the ship. Dick had arrived earlier to organise for his family's arrival. After a voyage of three months she did not recognise her father and became alarmed when her mother embraced this strange bearded man at the bottom of the gangplank.
Here is an extract from a letter Blanche wrote from Te Kuiti to cousin Kathleen in Ireland, dated 30 August 1952:
My father and Mother came out to New Zealand in the very early days with us two girlies - Amy, the eldest was 4 years and myself 2 - emigrants - everyone had to be prepared to rough it, and do the best they could to earn wages and get settled in some tiny rough homes - my father was a first-class coach builder and he was an only child, so he got a good education - (for Londoners) so he soon got a good position and got on his feet. His father and Mother, too came out to NZ - his father was a coach-smith, so he too soon got a good job. We were all very fond of our Grand Dad, he was so full of fun and playing tricks on us, we loved him dearly.... Father was among the last lot of soldiers, called up, to fight the Maoris but it all ended, in "speeches" & plans - instead of using guns, and everyone was very happy, no more lives lost.
Dick Burley, pictured in the following photograph, is said to have taken part in the last battle against the Taranaki Maori. The story goes that he was drunk on departure from Napier and gave those assembled to farewell them a lusty rendition of the song, "Just Before The Battle Mother." On his return, he reported that they had stormed a fortified pa but found only pigs in occupation. Dick referred to it as "The battle of the pig shit!" (See end note)


Dick Burley (fifth from the left)
Blanche remembered when she was a child being hoisted on to her father's shoulders above a crowd of spectators to see Te Rauparaha parading through Napier. It was probably Tamihana Te Rauparaha, an early crusader for the Maori King movement, son of the infamous old cannibal chief of the Ngatitoa.
By 1882 the family had moved to Wellington and then Nelson where May was born. Dick's parents probably remained there for the rest of their lives and Blanche occasionally visited them there. Dick and his family later moved to Auckland where Claude was born in 1886. Violet being born in Napier in 1888 indicates that by then they were back there for good. The 1993 Electoral Roll has the Burleys at Beach Road (Marine Parade) and they are listed in the Napier Almanac for 1894.
Blanche vividly recalled the consternation of Napier residents during the eruption of Mt Tarawera in 1886, when many believed that the explosive detonations they were hearing were from Russian ships shelling Auckland.
Dick Burley worked for many years as a coachbuilder for Mr J K Boon, producing very fine traps and landaus. He helped build a miniature coach for presentation to Queen Victoria in England. He carved the wooden cross that topped the old Roman Catholic Church in Napier. This beautiful building was refurbished in 1967. Collin James remembers visiting it and marvelling at the workmanship of the carvings.
Just a fortnight after the completion of the restoration the building fell victim to a fourteen-year-old arsonist. Richard Burley's cross survived as it fell clear of the fire when the steeple toppled. It possibly survives in storage but enquires with The Hawke's Bay Museum have drawn a blank. Dick became one of Napier's great characters who loved nothing more than dressing up and was always the star turn at the town's "Madi Gras." He was a very sociable person and a heavy drinker in his earlier years. This was possibly why Blanche and her sisters developed their strong temperance attitudes. They were eventually responsible for their father's total reform.

Blanche Burley
Blanche remained an active member of Woman's Temperance most of her life.
A newspaper report dated 24 July 1895 says in part:
The Bond of Unity Lodge presented their late secretary, Sister Blanche Burley, with a beautiful medallion gold brooch, exhibiting a Maltese cross, anchor, hand and heart, made to order by Mr F W Collins, jeweller, of Napier, and was of exquisite workmanship, reflecting much credit on the manufacturer. There was also presented to Miss Burley a splendid dinner service.
Miss Burley has greatly distinguished herself in connection with the working of the lodge for many years, adorning every office she held by her efficiency and amiability, and it was fitting that the lodge should recognise her valuable services by tendering her these tokens of her esteem.
The address recorded the genuine and hearty congratulation of the lodge members on the auspicious occasion of her marriage, and testified to Sister Burley's well known indefatigable efforts in the cause of temperance generally.
Lodge Deputy Bro R Burley thanked the lodge for its generous recognition of his daughter's services.
Blanche and her sisters may have been Suffragettes. A Napier partition asking for the vote for women, dated 1893, includes the signatures of:
Charlotte Burley
Blanche Burley
Dharma Burley - all of Beach Road
Amy Davis
Sarah Robson - both of Enfield Road
New Zealand women lead the world by winning the right to vote about 14 years later.
Charles Clifton was Blanche's first cousin - their mothers were sisters. Apparently he was in love with her. In a letter to a relative written by Blanche from Te Kuiti, dated 24 July 1952, she says:
I could have married him, he tried for years to win me over - but I loved my old Bob Cole the best, no he (Bob) was young then and so very handsome.
Charles Clifton ended up marrying Blanche's sister Amy in 1897.
The family portrait (circa. 1900) shows Ethel holding her sister Minnie's picture. Minnie married William John Harrington-Paine in Auckland on the 19th of July 1892. His address is recorded as Neilghanny, India (note I think this should be Neilgherry now know as Nilgiri). It is assume they went to England where Minnie died at quite a young age. It is probable that this photograph commemorates her death as Dharma, Claude and Violet are wearing black armbands and the others have black neckties. Richard has both.
Charlotte was a lace and dress maker and their beautiful clothing is evidence of her and her daughter's skills. Blanche wears a hair arrangement of fine lace.
Blanche married Robert (Bob) Bell Cole in Napier on 24 July 1895. She was 23 years 5 months of age and he nearly 34
Bob was from near Clones, across the border in County Fermanagh, Northern Ireland. He spent his first four years in New Zealand on the Chatham Islands. He then worked in the Northland kauri bush as well as doing various shepherding and shearing jobs both there and in the Hawke's Bay. He used to reckon that Blanche was the most beautiful woman in Napier and he had absolutely no idea why she agreed to marry him. They evidently made a pact whereby, from that day forth, Bob would never drink in their home and she would never broach the subject of religion. They stuck to their vows. Some of Blanche's family and friends were less than enthusiastic at the prospect of her being dragged away into the wilderness by an apparent heathen. They first lived at Moawhango near Taihape which was a place of considerable isolation, virtually cut off from the world during winter. The contrast for Blanche, who was a town girl, must have been considerable. Even Bob referred to the region as the "abomination of desolation."
Their honeymoon was the tortuous journey of one-hundred-and-forty kilometres up onto the volcanic plateau, climbing something like eight hundred metres above sea level. The first day saw them reach the hotel at Kuripapango from where they intended to catch the weekly coach next morning but were held up by a severe snowstorm
There they remained stranded for a full week and spent their time climbing the surrounding hills. Blanche referred to them as "mountains" - a more accurate description of what they looked like in winter. Bob would leave Blanche to rest and climb on up to the highest peak he could. From her viewpoint he looked like a mere speck and his return was always a great relief. He was certainly an adventurer.
At Moawhango, Bob ran the general store for Messrs Ellis Bros and Valder and in twelve years of employment with them he successively managed stores in Mataroa, Taihape and Ohingaiti. In Hunterville Bob shared a butchery that had a reputation for handling only the highest quality meat. His father-in-law built him a sturdy wagon for the business. It was a settled period of their early life and Bob became active in local affairs, serving on the Town Board, Library and School Committee. He was appointed a Justice of the Peace in 1905. A keen exponent and supporter of Rugby football, Bob was one of the many enthusiasts who by voluntary effort and the sheer hard work of logging, stumping and burning, cleared a heavily wooded flat to create the first playing field in Taihape.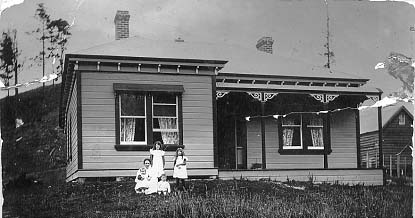 Bob and Blanche with Thelma aged 3½, Jack 5, and Lottie 2, at their residence in Taihape or perhaps Hunterville
They eventually had six children, Jack, Thelma, Lottie, Bill, Dick and Mac.
Blanche spent untold energy and time looking after other people. She used to help Maori women during childbirth - a practice frowned upon by some of the other white settlers of the time. Local Maori held both she and Bob in great respect, often greeting them with the words "Ka pai, Mr. and Mrs. Bob!"
They moved up to the Paraketu Valley near Waimiha, mid-way between Taumarunui and Te Kuiti in the King Country, where they took up an eight hundred acre block of bush-clad hill country. Blanche was forty-one and Bob fifty-nine years of age!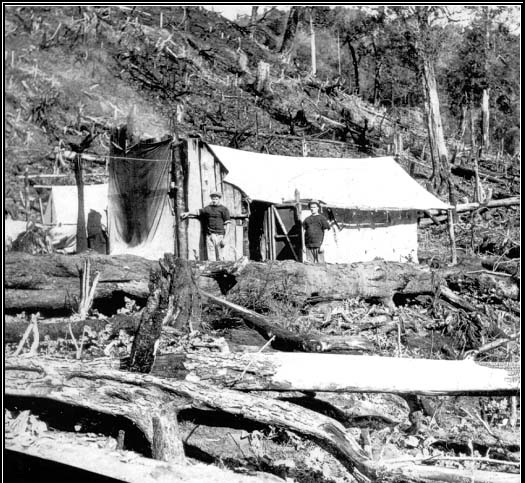 Neighbours, Len Parkes and Bill Gillespie stand in front of Cole's main tent
The family first lived in three ridge tents. Water had to be carried in buckets from a stream and the cooking done at one end of the main tent in three camp ovens in a huge open fireplace above which was suspended a large kettle for hot water. This tent had a wooden floor and the kitchen area was lined with vertical slabs of split timber with canvas against the fireplace end to keep wind from blowing through the cracks.
The other end was partitioned off as the parents" bedroom. In-between was a living and dining space along one side of which they stored their saddles and bridles.
An air space between the tent roof and the tent fly prevented condensation being a problem and kept the interior cool in summer. Behind was a boys" tent and a girls" tent, one of which contained a seldom-used colonial oven.
They improvised for many of their requirements. They swept the floors with a broom made by sliding a length of old sock down a branch of manuka to hold the brush part together. Flour bags provided the material for undergarments.
The only other structure on the initial clearing was a set of sheep yards. Bush was felled, burned and the land sown in grass. There was always plenty to be done and all the family were expected to work hard. From 1916, Bob worked part-time as a land valuer. With her husband frequently away, it was no easy task for a mother coping with the primitive conditions and caring for infant Mac, who was literally born in a tent. Blanche always worried that one of the men or her children would be killed or injured in the hazardous environment.
For a period of six months she fostered two neighbour's children, Pearl and Thelma Parkes. Thelma was just a babe in arms. Their mother was having difficulty recovering from a chronic ulcer that had eaten into her hip that in later years left her lame in one leg. Pearl, who was three - a bit older than Mac, has fond memories of their kindness and still refers to them as "Mummy and Daddy Cole."
Accustomed to living in bush camps for many years, Bob was probably quite content to carry on living under canvas forever. However, his hand was forced when Mac became seriously ill with diphtheria. Neighbours Len Parks and Oliver Gillespie milled a large Totara behind the sheep yards from which they built the house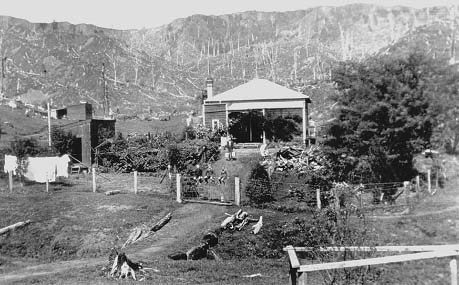 Dick carrying kerosene tins ~ Thelma cutting wood
Leo & Gilbert McKay (cousins) & Mac

Pearl Waldren (nee Parkes) said that on the rare occasions that Blanche was able to get out she always rode side saddle on a good safe hack called "Brownie." (It was not fashionable in those days for a woman to ride astride but the necessities of colonial life soon dictated a change.) Periodically "Mummy Cole" would gather up a basket-full of socks and visit Pearl's mother and would sit working her way through them as they talked. The needle flew up and down at a terrific rate - she was an expert darner. Pearl and Mac would amuse themselves outside making mud pies that little sister Thelma Parkes would tramp on to break them up. They were wonderful days for children.

Blanche's sister Violet and her husband James moved with her two small boys, Gilbert and Leo, to live in the dwelling at the back of the Cole's place at Paraketu. They were there for a number of years. She parted from her husband James fairly soon after leaving the valley.

In 1924 Bob and Blanche retired to a farmlet of twelve-and-a-half acres at Mangarino Road, Te Kuiti. For a while Thelma and her husband Jim ran the Paraketu place and then later, Bill and Nelly Cole took over the management. They used to move sheep from Waimiha to the Te Kuiti property to fatten for sale, so Bob still had plenty to do. Blanche continued to cook over a coal range and had to boil up the copper for clothes washing.

Dick ~ Alec
Mary ~ Blanche ~ Bob Cole ~ Minnie ~ David Cole
Her garden plots produced abundantly in spite of her methods being criticised by male members of the family. Rather than digging, she just scratched about on the surface and was little concerned with staking or pruning. The garden paths were sprinkled with coal and wood ash that packed down into a hard, smooth, weed-free surface.
She manufactured oval floor rugs by pulling bits of coloured material through a sacking base and others that were lengths of platted fabric sewn together. "Flea traps" was the dismissive term given them by her husband! There were pretty lace curtains at the windows.
Removing a third of the slats from round cheese cases, placing them on end and pinning a skirt of material around the outside made serviceable bedside tables. Being so short Blanche use a footstool in front of her chair but still found the kitchen table frustratingly high. One day while Bob was away she cut the bottom tapered bits off the turned legs of the table which was much better for a while. Bob returned, and when he sat down for a meal and jerked his chair into place he nearly took his kneecaps off! He was furious. From that day on the table perched on four large cotton reels he had unceremoniously nailed on.
She would spoil visiting children at every opportunity. A great treat was toast done over the embers of the coal range on a long wire toasting fork, buttered while hot, and sprinkled generously with sugar.
On one occasion a tramp knocked on the door and received the usual hospitality of a cuppa and a meal. He was invited to spend the night in the barn down the back in which there was a small but comfortable room. Forgetting that he was there, Blanche went down next morning to get grain for the chooks and ducks. She left closing the big barn door behind her and placing the bar across to hold it shut. Later when the tramp awoke to find he was locked in he must have panicked, perhaps fearing he was detained pending the arrival of the police. He smashed the back window and fled
The Mangarino Road Home

Mac and Noeline visiting Bob, Blanche, Lottie & her boys Bob and George
Their daughter Lottie lived there with her two sons Bob and George, and kept house for them for many years. The boys" cousin Bob Cole also lived with them when he was about six or seven and has written a very descriptive account of that time titled "Living in Te Kuiti".

Apparently Blanche had difficulty catering for a household of reduced numbers and tended to prepare large cakes that, as they became a bit stale, would appear embellished with icing, then next day maybe with a jam filling and the next with cream and hundreds and thousands sprinkled on top. Lottie would sometimes help by quietly cutting a generous portion when her mother wasn't looking and retreating out the back door saying, "I wonder if the ducks would like a bit of Grandma's cake?"

Both at Paraketu and later at Te Kuiti, there was a constant stream of visitors who stayed for varying lengths of time. They enjoyed Blanche's gentle hospitality and Bob's enthusiasm for spinning yarns.

After Lottie left to marry Harry Middleton, the big house became impractical and they moved to a cottage adjoining their son Mac and his wife Noeline's home in Tammadge Street on the outskirts of town.

Mac and Noeline took excellent care of them and made them very comfortable in their wee cottage. It was the first house they had lived in with an indoor toilet. Noeline was horrified by Blanche's habit of reading in bed at night by the light of a single candle. She never caused a fire - unlike her husband who burned holes in everything with his smoking.
Blanche sitting in the sun in front of the cottage
A great speciality in later years was the production of pale purple organza lavender- bags delicately tied with darker purple ribbon. Her list for December 1941 records a total of seventy lavender bags and those were only the ones being posted! Then there were the woolly slippers: Everyone who visited had the outline of their bare foot drawn on a piece of cardboard and next time they returned, a pair of felt-soled crocheted slippers awaited them. Blanche never drove a car but walked great distances around the town dispensing gifts from a cloth-covered basket she carried hooked over her arm. "I'll just take something to poor old Mrs (So-and-so) who has been poorly" she would say, invariably referring to someone a fraction of her age! She continued with her great love of gardening and of course gave away much of the produce. She loved going out to the paddock and raking autumn leaves into little piles and setting them smouldering; and at least once a year, freshening up the garden gate with another dab of green paint.
If anyone attempted to help with chores or gardening she would hover anxiously, all the while imploring one to leave over, worried you might over work - not something she ever considered for herself - and then fussing around with cakes and drinks.
Grandma, as she was called her older age by most of the family, was very deaf and often used a hearing trumpet and towards the end relied on written notes. She attributed her hearing problem to a time in early adult life when a neighbour gave her the wrong advice for the treatment of an ear ailment that resulted in her eardrum bursting. Over the years Bob developed the habit of shouting at her and then at every one else as well which, if you didn't know him, could be somewhat intimidating.
Bob died peacefully at the cottage on the 8th of September 1956. He was ninety-seven.
On the 13th of June 1958, after a short time in a rest home in Auckland, Blanche died at the age have eighty-six.
Blanche was a wonderfully generous person, always preparing gifts for friends, relatives and even chance visitors. All her life she was a prolific correspondent keeping in constant touch with family and friends - every letter and gift she sent recorded in hard-backed exercise books so that nobody was overlooked. Her records for 1942 alone show over two hundred and fifty dispatches. She used to say that when she died they would probably stick a pair of woolly slippers on her gravestone! She was extremely kind and caring and much loved by all fortunate enough to know her.
Mr and Mrs R B Cole ~
Diamond
Wedding 1955
---
Contact us at cole@familycole.net Return to Home Page