Mac Cole 1912 ~ 1987
Mac, christened Claude McMurray Cole, was born in Hunterville on February 19th 1912. His parents, Blanche and Bob (Robert Bell, or RB as he was known) had five older children: John (Jack), Thelma, Charlotte (Lottie), William (Bill) and Richard (Dick).
The previous year they had taken up a five hundred and eighty acre block of steep bush-clad hill country located about mid-way between Taumarunui and Te Kuiti at the head of the Paraketu Valley, Waimiha. What a daunting prospect it must have been for Blanche with her new born baby
| | |
| --- | --- |
| | |
| Neighbours Len Parks on the left and Bill Gillespie in front of the Cole's main tent. Presumably the canvas against the fireplace end was to keep wind from blowing through the cracks | |
The family first lived in three ridge tents set up amid charred stumps and fallen logs . Water had to be carried in buckets from a stream and the cooking done at one end of the main tent in three camp ovens in a huge open fireplace above which was suspended a large kettle for hot water. This tent had a wooden floor and the kitchen area was lined with vertical slabs of split timber. The other end was partitioned off as the parents' bedroom. In-between was a living and dining space along one side of which they stored their saddles and bridles. An air space between the tent roof and the tent fly prevented condensation being a problem and kept the interior cool in summer. Behind were a boys' tent and a girls' tent, one of which contained a seldom-used colonial oven.
The sheep pen as a play pen
with Mac's father working
in the background
His sister Lottie describes the access in an account written in 1983
In 1912 the Paraketu Road was within a mile of the head of the valley and we used a bridle track, over and under logs round and about stumps to reach our home until the road was formed and the wagon could bring the timber from Parks' mill for the house... horse transport gave way to motors. Dad's old Ford was the first in (about '20 I think) and over the bad old road too, but "Maggie" as we called her took everything in her stride.
It was usual for little boys to wear dresses for formal
occasions till the age of four
Lottie took some of the early family photographs and developed them at home.
Mac, the youngest child by seven years, was undoubtedly indulged. He was fair-headed and affectionately called Snowey by his very much older brothers and sisters. His big sister Cita (as Thelma was called) still addressed him as Snowey in a letter written to him from Te Kuiti on his turning twenty and enclosed a page of sketches she had drawn for his entertainment when he was a two-year old and she sixteen. Also enclosed were a couple of early letters of his. (See below) The rest of the family eventually dropped the endearment but Thelma never did. Mac chose "Mac" rather than Claude for a first name, possibly through a youthful need to distinguish himself from Claude Burley, his mother's much-loved little (and only) brother.
Thelma's letter from Te Kuiti dated 19/2/1932
Dear Snowey,
Greetings for your 20th.
Intended writing for instead of on your birthday.
Being your big sister for so many years, I naturally had a good deal to say & as much do as was possible in your "broughtens up". Please note by enclosed that 18 years ago today I was drawing pigs, cats, chickens, trains, sheep and ducks for your entertainment. I defy you to discover anything but the pigs and of course the trains: it used to be "nozzer pusey, nozzer pig, nozzer twain", etc.
The letters were written to me while I was house keeping for Jack in Ohura. One ends
with a sketch of Jack's partner's daughter Joan in the bath.
Your reference to the rounders had a sequel -- your side was on the lead until you accused the opposition of cheating, thereby forfeiting your score!
You were the great age of 9 then. I remember snorting at your quotation a year later: "Young pimp"! I called you and Jack and I had a great laugh.
I want you to keep these enclosures because sometime a woman will treasure them because they are yours and a link with the past she could not share.
I don't know if you remember the last time you skinned your nasal appendage but I well remember the first time! We giggled joyfully every time we looked at it, much to Mother's indignation.
A good thing the Cole men are lean stomached for imagine yourself in old age with a nose & a stomach!
The Cole method of demonstrating family affection is by abuse.
When you are being discussed I say "he's not bad because we helped to bring him up but --we had nothing to do with his nose!"
"Not bad" is absolutely the highest praise one Cole can give another -- I've heard Dad and Aunt Lizzie at it too.
Fortunately the Cole has dominated the Burley in the sentiment at least!
You added much to the families happiness & amusement & that nice feeling when we foregather en masse.
Salut. Cita.
(A pimp is a tell-tale; Lizzie is Elizabeth their father's sister; Burley is their Mother's family name)
Mac aged 7½ writes to his eldest brother
The drawing is titled A BATH and features what is probably a traditional old tin tub
Note the labels SOAP, SPONGE and POOL OF WATER
Transcript
You know I live in Waimiha 12-8-21
So,
Here I am at last to hope you, Jack, and baby are quite alright. Tell Jack not to cut his feet went he chops the wood for the fire. Uncle killed charly the lamb. Some of him is in my tummy right now when I am writing this exciting letter. Lottie is buying dad a fountain pen for his birthday and dad will send you your pen.
Late News Not one
We have been playing rounders at school even the school mam plays rounders with us. Our side is on the lead 28 to 15.
I must close now Your sincerly Brother Mac
This letter was written a year later to his sister Thelma

Blanche poses Mac on a window sill
Note the lace curtains
Pearl Parks, a neighbour from further down the valley, was Mac's pre-school playmate and for a period effectively his sister. Pearl and her baby sister had been sent to live with the Coles when her mother was ill. So complete was the assimilation, that when the Parks children were returned to their mother, they were heartbroken -- Pearl believed they were being turned out of their own family.
Mac's son Michael visited Pearl (then Pearl Waldren, living in Hamilton) who said,
On the rare occasions that Blanche (Mac's mother) was able to get out she rode side-saddle on a good safe hack called "Brownie." It was not fashionable in those days for a woman to ride astride but the necessities of colonial life soon dictated a change. Periodically Mummy Cole would gather up a basketful of socks and visit my mother and would sit working her way through them as they talked. The needle flew up and down at a terrific rate -- she was an expert darner. Mac and I would amuse ourselves outside making mud pies that Thelma (Pearl's little sister) would tramp on to break up. They were wonderful days for children.
Having been accustomed to living off and on in bush camps for many years, Mac's father was probably quite content to carry on living under canvas indefinitely. However, his hand was forced when young Mac became seriously ill with diphtheria so they engaged neighbour Len Parks to build a proper house from totara timber pit-sawn on the property. Even then they were shocked to find how difficult it was to keep their new house warm in the depths of a King Country winter.
The new Paraketu home with Dick carrying kerosene tins while Thelma is cutting wood and Leo and Gilbert McKay (cousins) and Mac are sitting on the gate.
Violet and James McKay's shack is in the background on the left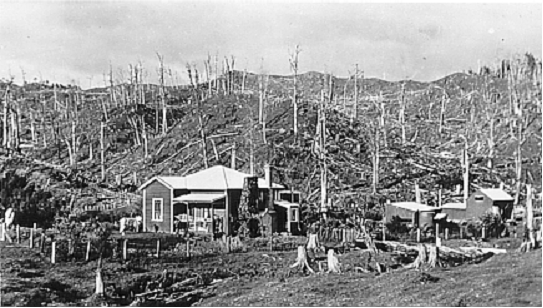 View of the back of the house and neighbouring properties beyond. Clouds of smoke from a bush fire raging beyond the ridge fill the sky
Blanche and Violet (Aunty Vi) were sisters and for a time Vi and her husband James and their two boys, Gilbert and Leo, lived on the Cole property in a small place behind the homestead. The building was later converted for use as a woolshed in front of which new yards were built. All that remains on the site today is a heap of rotting timber.
Pearl Parkes confirmed that James McKay was there because she remembers him making her father a pair of riding britches. She says he was a strange and very timid man. Both Vi and James were tailors.
Lottie ~ Bill ~ Dick ~ Thelma ~ Aunty Vi
unknown ~ Leo ~ Gilbert ~ Mac ~ Blanche ~ unknown

This snap of Mack and cousin Leo is titled
Last Year's Lamb
Mac's sister Lottie was his first schoolteacher, at first using the back of Len and Emma Parks' woolshed as a classroom. They then moved into Charles Fitton's whare till eventually the Education Department built a proper schoolhouse across the road -- the Paraketu Valley School.
Armed to the teeth
Fellow cowboy and Mac pose at their headquarters

Mac took this photo from the Paraketu Road in 1987 and wrote on the back,
Charles Fitton's Whare with totara shingles on the roof -- our first schoolhouse Paraketu Valley
It has since collapsed and is rotting away
Jean Faire, another neighbour, also remembers those days with warmth and humour.
Michael and cousin Bob Mertens visited Jean (then Jean Stevens, Wangamata?) who said,
I was Mac's cobber. He and my brother Harry used to play football and cricket and I was the only girl there, so I had to play and being bit younger I was the football half the time. All the Cole family spoilt me rotten. Our schoolroom was in the Parks' woolshed.
Opposite the Valley School there was pumice bank in the cutting and we had all these tunnels we could go through -- it was a wonder we weren't suffocated. Lottie was our teacher. We had a lot of laughs but she could keep us in line.
| | |
| --- | --- |
| | Mac poses in front of car |
After Waimiha, Mac went to school in Te Kuiti and in his first year of High School was treated to a momentous trip to Auckland.
Graham Hutchins describes the event in his book The Learning Curve
In 1925 a train trip to Auckland was undertaken to visit the fleet ships, including H.M.S. Blood and Renown. Elaine Harpur recalls small, sealed cardboard boxes being presented to each child as they filed into the Auckland Wharf building. These contained two sandwiches, a bun and an apple, which complemented a large mug of hot cocoa. A visit to the Auckland zoo was arranged for the younger children. Travelling by train was an adventure in itself. Back then you rode sideways on long forms in an antiquated truck-like carriage, with roll-up tarpaulin covers to keep out the wind and rain.
In Mac's Fifth Form year there were 636 pupils at the school down by the river. Of these, 97 were secondary pupils. Work had just begun on the new Te Kuiti District High School up on the other side of town. His final year gave him his first taste of the military with weekly School Cadet training.
Despite his Fifth Form report, Mac completed his education at by gaining what was then known as Matriculation (later called University Entrance). Of this he was justifiably proud, as he was the only one of his family to achieve an academic qualification.
First year at Te Kuiti District High
Form Three
Mac third boy from the left
in the front row of boys

Rugby First Fifteen, Mac third from left at back
Following Public Service Entry exams he secured a job as a clerk with the Public Works Department, first in Taumarunui and then later in Wellington in the Hydro-electric Branch.

He ended up in the Accounts Section at Head Office.
Mac transporting Thelma in the
King Country Rickshaw

The city slicker from Wellington

On Lottie's stead at the Mehrten's farm
Mac lived in Mrs Fitzmannice's boarding house in Brougham Street, Wellington and his first love was an office romance with a Vera Frank who later in life lived in Nelson. He kept in touch with her over the years.

On his 21st birthday he wrote home from Tinakore Road, which was Mabel Cimino's address, so possibly he was boarding there by then and that was how he met Mabel's daughter, Noeline Adelaide Cimino.

Mac and Noeline married at a registry office in Wellington on 23 February 1935. Unfortunately there were no wedding photographs

In their whites for cricket
Christmas 1931 at Mt Maunganui
Mac is second from the right at the back
Pukerua Bay 1935 at Hollywood from the left,
Ray Gapes, Helen, Cousin Peter Cimino, Noeline and Cousin Meg Cimino

Mac and Noeline with her cousin Audrey Mee
at number 271 Pukerua Bay, 1935
Michael in Maori shawl

Cottage

At first Mac and Noeline lived in flats, the main one being number 4 /18 Aitkin Street, which was situated within walking distance of work and they paid rent of thirty-five shillings per week. In a letter home he speculated about the expected rise in the cost of living due to the recently introduced forty-hour week. They were both working and put in considerable hours of overtime.

They later moved out of the city and up the coast to Pukerua Bay where the rent was more reasonable. They had a lovely wee cottage in Hainui Road on the hill looking out to Kapati Island and in good conditions could see the peaks of Egmont and Ruapehu. The place was also much roomier than the flat with an eleven-foot square sun-porch glassed in on two sides, a large front room and a good sized kitchenette with electric stove, scullery and a washroom complete with tubs and copper. There were two large bedrooms and front and back porches. It was only a ten-minute walk to the train to commute into Wellington for work. Mac strenuously negotiated with the owner to buy the place but was frustrated in being unable to clinch a deal.

Throughout their married life they kept close contact with all their extended family members. Weekends were taken up with regular visits to friends and relatives of both sides of the family and they frequently had people staying with them. Often, when there was someone to play, they gathered around the piano for singsongs with Noeline in accompaniment on violin. Transport in and around the city was by train, tramcar or bus or, on rare occasions, by car when they borrowed Eric Cimino's Austin.

Michael McMurray was born at Pukerua Bay in 1938

Catherine Ann (now Annie Bonza)
at Te Kuiti in 1940

Living room
They travelled home by train to the King Country each Christmas except for a couple of times when they holidayed at the Mee's batch in Queen Charlotte Sounds.
They decided to invest in a property in the Queen Charlotte Sounds at Snake Point, Lot 31, DP 1284, owned by Farnham Forests Ltd. and made regular payments for some years. Mac was extremely embarrassed by having defaulted and consequently was slow to reassert his interest. When, much later, he did attempt to settle the arrears he found a large forestry company had purchased the entire area and all practical prospects for completing the purchase had thus expired.
Mac didn't seem to have much luck with investments. He collected health stamps for years, buying each new issue many sheets at a time. The whole lot mysteriously disappeared when later living at Waiwera Place.
Mac, Noeline and Michael on the way
to the sounds

Photographed in the Marlborough Sounds by Aubrey Mee and inscribed on the back

For Mac
Better luck next time
addition to boat will make things easier
Michael and Peter were both given the middle name McMurray in the style of their grandfather's youngest brother James McMurray Cole.
McMurray is a Northern Irish family name traced back over five generations.
In 1940 Mac and Noeline were living in Pa Road, Pukerua Bay as indicated by Mac's letter
He goes on to tell of the birth of child number two
... we went into Town a week before the scheduled date in order to be close at hand - Noel to her Aunt Nora on the Terrace and Michael and I to Ada and Eric at Melling. We got in only just in time as Noel was in Hosp. 8 hours later. We were lucky to have dodged that last week of worry. Noel had a rather hard time of it poor old kid but has staged a wonderful recovery. We came home on Saturday and she has been able to get about splendidly considering. The lass is thriving -- gained her birth weight within a week. She seems very contented and sleeps and sleeps and sleeps. That is a great help and comfort to Noel and the fact that she has complete confidence which she entirely lacked with Michael also makes a difference. Michael is very sweet towards his new sister but at the same time has been rather a naughty boy. Perhaps the role of second fiddle has produced this result. He has been inclined to be fitful and defiant but we have no doubt it is a phase he will have to pass through. In the meantime it is rather upsetting for Noel but he is getting no small change for his trouble. At heart we both feel frightfully sorry for the wee man.
At the present moment Noel is abed feeding her ladyship and I am penning this on my knee. Aunty Vie came over last night and was greatly taken with the babes fair long hair complete with my cowlick and the dimples in her knees ("Already!") As you may have guessed she remains unnamed --
awaiting a happy (?) inspiration! ...
By the time of World War II they had moved to 9 Rawhiti Place, St John's Hill in Wanganui and Mac was working as a clerk in the Social Security Department. The house, located next to a patch of bush, was spacious and set in a large section with room down the back for a sizeable vegetable garden.
| | |
| --- | --- |
| | |
| | Ann, Dad and Michael at Rawhiti Place 1940 |
Mac did six months with the Home Guard gaining rank of corporal before joining up for regular army service in 1941. Training occurred at Awapuni, Palmerston North (under canvas), Dannevirke, Wanganui, Trentham and Linton army camps as well as at Waiouru where he was photographed standing in a snow foxhole. Hut accommodation was very comfortable but a stint in the snow in four-man tents was a bit tough. He wrote to Noeline on a regular basis chronicling the minutiae of daily army life. At Waiouru he revelled in getting fit doing ten-mile route marches in the cold winter conditions, contrasted with the snug evenings playing penny poker and billiards and attending YMCA concerts and movies. (Movies cost six pence). And of course there was organised sport. He enjoyed a pretty good weekend social life too judging by his accounts.
Snow foxhole

Waiouru Military Camp
Letters were mostly written on flimsy notepaper provided by the National Patriotic Fund Board or Salvation Army like this example
Following a YMCA concert he writes ...

It was jolly good but just a little too classic in order to satisfy popular taste. As you know an unappreciative audience can spoil any show but in spite of that some of the artists (for they could not be called less) gave some very good renderings of popular classics...

and in another letter

... had 16 games of table tennis this afternoon and most of the boys were club players from Wanganui and I beat all of them except one who was an A Grade player. Enjoyed it very much and it is certainly warmer than billiards...
During this time they let the Wanganui house and Noeline moved to live with Mac's parents in Te Kuiti and though she paid rent, it was a financial advantage for them.
On the 9/8/1941 he writes from Waiouru
... Have been drawing up a syllabus of training for the Intelligence Section ... They are going to train 12 men for intelligence work from the 18 year olds and I have been "sounded" as to whether I would stay on as their instructor! Well I am deeply honoured of course ... [increased pay] would amount to £5.5.0 pw. Net. That is an extra 2/- a day -- 1/- per two stripes 1/- increase in your allowance from 1/9/41. (Noeline had been receiving £2.12.6 per week)
At the end of another of his letters he adds a PS saying
Have just heard the momentous news that Germany and Russia are at war. That is the best news that I have heard since September '39 and what I have always hoped for. Just you wait a few weeks and the papers will be telling us that the USSR is the Garden of Eden! I really think that old Adolph has bitten off his last mouthful.
Well, as we know, it didn't work out quite as easily as that.
Mac's son Michael recalls
One vivid memory I have is of Dad arriving at our place for morning tea in charge of a platoon of soldiers in their khaki uniforms and lemon-squeezer hats. They were on an exercise of some sort and the diversion was obviously prearranged because my mother had tea, scones and sandwiches prepared and there was a great deal of cheer and laughter before they went crunching briskly off in their heavy army boots. On another occasion he arranged for us to have a ride in a Bren gun carrier. This huge, noisy and frightening machine, smelling of oil-scorched metal, roared up and stopped right in front of where we waited on a slope at the edge of an expansive recreation field and to my horror my mother climbed over into the open top and my father handed my totally unperturbed sister Ann in to her. I refused the offer! A belch of blue exhaust and off they went around the grassy field, the Bren's tracks throwing great clods of turf in the air on the corners. I was torn between a slight degree of regret -- it seemed much less dangerous once at a distance -- and total disgust that my sister had been so naive as to not be as frightened and awe-struck as I was.
Mac was a keen rugby player and in the Te Kuiti District High School First Fifteen that in 1928 had the distinction of winning the Teddy Shield for the fourth year in succession, scoring a record 78 points to nil against opposing teams. He went on to play at county level for the Junior Maniapoto Team where, on 20th of July 1931, he contributed to his team beating Taumarunui for the Boles Cup. He received frequent mention in the local paper including the opinion that
Cole played an outstanding game and was the best forward on the ground.
In 1934 he was in the Public Works Department rugby team beating the Internal Affairs Department team six to nil. He was also a good field athlete and did some boxing.
| | |
| --- | --- |
| | |
| | Public Works Department Team ~ Mac second from left at front |
Rugby playing continued in the army. He was very proud of one occasion when he was chosen to represent the officers in a running race where the big brass bet heavily on him to win, which he duly did. Rugby remained a life-long passion that he shared with his father. They seldom missed listening on the radio to test and shield matches and Mac attended many.
Following Officer Training he qualified as Second Lieutenant in Intelligence and took a particular interest in map reading and interpreting military aerial photographs. In this role he spent six months on Norfolk Island with the Second Wellington W. C. -- "N" Force. (5/4/1943 to 9/10/1943)
Lightering troops ashore at Norfolk Island

Salvaging from stranded supply ship
On Norfolk Mac derived great pleasure in meeting descendants of the Bounty mutiny and enjoyed the abundant fishing. He was scathing of the high-handed British Administration of the Island people. The officers lived like kings and he reached his greatest weight ever of twelve stone.
Army team on Norfolk with Mac back right ~ note the makeshift goal posts
The officers lived like kings and he reached his greatest weight ever of twelve stone. On his return to Wanganui Noeline put on a huge traditional roast dinner with all the trimmings not knowing that he had been dreaming of getting home to the likes of something as simple as ham and salad!
Mac carried this leather folder containing photographs of his family
Fearing that the army was going to keep him in New Zealand indefinitely as a training officer Mac opted to relinquish rank and in January 1944 departed for Egypt with the Eleventh Reinforcement, part of the Second New Zealand Expeditionary Force of the Middle East.
Mac's war diary runs from the day after embarkation on the troop ship Transport 82, SS Mooltan till just before being wounded five months later near Casino in Italy. The tone of the writing is a reminder of how very English-sounding New Zealanders were at that time. For security reasons, spaces were left for place names that were added in at some later date. He starts his diary by saying
This is Friday the 13th a very good day on which to commence a dairy -- those short lived efforts to relieve the boredom of sea travel! ... Departed from Wellington at 1800 hours on Wed and there were many waves and wet eyes on that wharf and I was thankful that no one of mine was there to suffer that painful parting...
They sailed to Freemantle then right up the Indian Ocean to Bombay and across to Aden at the bottom of the Red Sea. From there they entrained for Cairo in Egypt.
| | |
| --- | --- |
| | |
| | Newspaper published on troopship |
Mac's dairy contains quite beautiful sketches of Bombay and Aden as seen through a porthole. He shared this pencil-sketching talent with his sister Lottie and eldest brother Jack who both sketched and painted. He was also a good and sometimes poetic letter writer.
Eventually there was another train trip to the coast and ship across the Mediterranean. They landed under "the heal of the boot" at Taranto in Italy where it was train once more to travel up the country towards Cassino.
Sketch by a street artist in Cairo

This profile lends truth to Mac's story that on one occasion when he was travelling in an open-topped vehicle he was called out to by some excited Italian locals who thought he was Field Marshal Montgomery.
He happily waved back.
Our mother must have suffered massive anxiety in the time he was away and no doubt found coping with two small children with no support from husband or nearby family a considerable trial.
Our father used to send postcards to try and keep us behaving that featured a sketch of a little watch bird -- the watch bird is watching you -- that flew all the way to tell him if Michael and Ann were being good little children for their mother. Another was a line drawing of a head with a question mark strand of hair sticking up from its head and its nose and knuckles sticking over a brick wall -- also watching!
[scan cards]
Mac arrived in Taranto, Italy on 1 April 1944 and moved by motor transport to Base Camp at Matera. On 3 April they moved again to Bari to entrain for Presenzano via the foothills of the Apennines, changing trains at Benevento. The camp there was just south of the road three miles west of Presenzano.
| | |
| --- | --- |
| | |
| | Taranto to Cassino in Italy |
The following account of Mac's War may seem a little protracted and second-hand but this is because we only got snippets of information from him about his war experiences. However we hope that what we have researched may provide enough information to allow anybody lucky enough to visit Cassino to be able to retrace Mac's steps and to appreciate to some extent the atmosphere of those grim days. His personal file has been obtained from the NZ Defence Force Archives enabling accurate dating of events but unfortunately nearly all such files have been "purged" as a way of making more archival storage room, so useful information may have been lost.
In the first week of April 1944 Mac and a small group of fellows, his "old cobber" Ernie Hanson included, were posted from the reinforcement camp at Presenzano to C Company of the 25th Division which had recently suffered devastating losses trying to take Cassino, 6 officers and 217 other ranks had been put out of action. There must have been considerable relief to the survivors when they were moved away from Cassino to a relatively quiet sector to the northeast near Volturno.

To get into action Mac had accepted a drop in rank to Temporary Sergeant (# 586327) and was posted to C Company as Acting Sergeant in command of 13 Platoon. His predecessor had been wounded and half the former platoon had been killed or wounded and moral was very low.

They moved into position in the Le Mainarde Range at a point about twenty kilometres as the crow flies, north-east of Cassino and about four kilometres west of the village of S. Bi?gio. According to Puttick's book 25 Battalion, Volume 4, page 423, the move described below took place on Easter Monday the 10th of April 1944. The dates on the last two pages of Mac's diary appear to have been added later: April 7, April 8/12, April 13 and must be inclusive. In other words the final date of April 13 should have been at the bottom of the last page of his diary.

This is the final page of Mac's diary
25 Battalion by Sir Edward Puttick, Vol. 4, page 422 (NB the paragraph layout is ours)
On Easter Monday (10 April) the battalion moved off in transport, via Venafro, to a staging area at Filignano, the journey of about 20 miles occupying three and a half hours. Only a short halt was made and at 9 p.m. the convoy went forward a further 7 miles to a debussing point near Cerre Grosso (on the road to Atina.) There the equipment and stores were loaded on to mules, an operation not without incidents both exasperating and amusing, but completed with the assistance of Indian muleteers. Led by polish guides and followed by their laden mules (which gave a good deal of trouble on the way), the companies set off in the dark on a march of about two and a half miles along a track beside a tributary of the Volturno; the easy track along the river was soon succeeded by very steep and narrow mountain tracks to positions 1,300 feet above the road.
This was the first mountain position the battalion had held, and heavily laden as the men were, they found the climbing most exhausting. "What a climb," wrote Corporal Wakeling , and our shells whistling overhead as we crawled into a blanket. Great chaps these Poles and always smiling."
| | |
| --- | --- |
| | Battalion Location Map |
This was known as the San Pietro Sector and the 25th Battalion relieved the 14th (Polish) Battalion on a front of 2,700 yards. C Company under command of Major Handyside was positioned astride a broad ridge with its three platoons (including 13 Platoon) forward on a front of 350 yards. Each company had machine guns deployed with fields of fire crossing and protecting each other and there were arrangements of wire entanglements, mines and booby traps, all pretty-much set up previously by the Poles.
After three summers -- New Zealand, Norfolk and the Egypt -- Mac now found himself just below the snow line in the Italian Alps.
| | |
| --- | --- |
| | |
| Mac kept just one page from his field notebook used in this forward observation position | |
From the account of 25 Battalion by Sir Edward Puttick, Vol. 4, pages 424-5
...the sector proved to be fairy quiet during the eight days the battalion was to hold it. A novelty for most of the men, cuckoos were very numerous, so much so that a man of 17 platoon "Couldn't understand why they should have so many cuckoo clocks away out in the wilds." Limited leave was continued, parties proceeding to the base at Bari and to Campobasso, a town of 30,000 people situated in the Apennines 50 miles east of the battalion and about the same distance from Naples. As the enemy was on higher ground with excellent observation from vantage points nearby, the men were instructed not to move about during daylight.
...On the afternoon of the same day (13 April) an enemy patrol about 450 yards away was seen on the ridge north of 13 platoon of the left company and dispersed when shelled. On that afternoon the battalion mortars had registered, and these various activities apparently roused the enemy as about dusk there was wide spread enemy artillery and mortar fire.
...an enemy patrol of four or five men approaching C Company on the other flank was engaged with grenades and small-arms fire; artillery was brought down beyond the patrol in the hope of trapping it as it withdrew, but there was no apparent result.
That the sector was considered quiet was of course only comparative with previous situations. It must have been nerve-wracking enough.
On one occasion, out with a night patrol forward of their positions, Mac and his companions were caught short by the arrival of morning light and so chose to spend the day lying prone in a shallow defile rather than risk drawing fire in attempting to regain their lines.
The battalion was relieved on the 18th and moved back during the night to a very pleasant rest area by the Volturno River near Montaquila where they were issued with shirts and shorts to go with the summery weather. Mornings were devoted to training and afternoons to sport. They were required to be ready to move on a counter-attack role at eight hour's notice. Mac has circled the precise position on his Napoli topographical map. It was with considerable pride that later Mac related how their battalion was inspected and addressed by General Freyberg for whom he had considerable respect.
On the 29th of April the battalion left to relieve the Maori Battalion in the Belvedere sector just below Trelle, four miles north of Cassino.
25 Battalion (Sir Edward Puttick, Vol. 4, pages 424-5)
The move was a difficult one. The mountainous nature of the country and the narrow and steep roads necessitated very strict traffic control and restriction to the absolute minimum of all transport vehicles in the forward area. In the afternoon the battalion moved nine miles west to the staging area at Acquafondata, beyond which no movement in daylight was permitted ... had a hot meal and at 8.30 p.m. followed the Inferno track to Hove Dump, four miles to the west, descending over 2,000 feet in the hour-and-a-half journey. There the troops debussed and with guides from the Maoris, marched along Tui Road to a lying up area on the western side of the Rapido valley, four miles farther on and with the high country just ahead. C Company remained there in reserve until 2 May. The actual defensive position being held was 1,800 feet above the village of C?iro, a mere mile-and-a-half away but the numerous lengthy and very pronounced hairpin bends made it six miles. The view from there included Monte Cassino, four miles distant and 600 feet lower. The companies experienced considerable enemy action in this sector.
25 Battalion (Sir Edward Puttick, Vol. 4, page 430)
Very early in the morning of 2 May firing broke out in 21 Battalion's sector on the right of 25 Battalion, causing a warning to be sent to B Company, the brigade reserve, to be ready to intervene. A few minutes afterwards it was reported that an enemy patrol of thirty to forty men was moving from right to left across 25 Battalion's front. At this stage B Company was placed under command of 21 Battalion and moved up to that battalion's position, D Company extending to take over the defences vacated by B Company. Colonel MacDuff then asked 6 Brigade to send C Company up from the lying-up position, and it arrived and took its place near Battalion headquarters a couple of hours after midnight on 2 - 3 May. Twenty-fifth Battalion had lost six men wounded.
With the release of B Company from its role as brigade reserve and the arrival of C Company, Colonel MacDuff discussed with his company commanders his plans for meeting various situations; B and C Companies were to remain in battalion reserve and were to be prepared to occupy a flanking position on the right rear of the battalion, a refused flank in fact, if the battalions on that flank were forced back.
Light rain which fell after dark on the 3rd was not heavy enough to hinder the carrying and mule parties. During the night 26 Battalion carried out a quiet relief of 21 Battalion on the right. The next morning there was some harassing fire by enemy artillery from the southwest and in the evening spasmodic mortar fire from the direction of Terelle.
The New Zealand tanks were well forward, two troops of B Squadron 19 Regiment being situated in a bend of the road east of Point 719 near the area which contained 25 Battalion headquarters, B, C, and D Companies, and the RAP, a some-what populous locality which during the afternoon was shelled a little.
And so the account continued of similar activity in the days leading up to the time of the final assault on Cassino.
25 Battalion (Sir Edward Puttick, Vol. 4, pages 432-33)
C and D Companies again had their cookhouses forward and both had some trouble from shell splinters and rolling boulders; trouble of another kind was also experienced through mules killed in the vicinity being somewhat inadequately buried by the Indian muleteers. The battalion had one man wounded on the 8th and on the following day two were killed, one by a direct hit on his sangar by a heavy shell of 210-millimetre (about 8-inch) calibre.
On 11 May the battalion was told that at 11 p.m. that night a large-scale attack by Eighth and Fifth Armies was being launched on a front from Cassino westwards to the sea, with the object of forcing a junction with the Allied forces in the Anzio beach-head and of cutting the enemy communications with Cassino. The role of the New Zealand Division was to hold its ground, be ready to protect the right flank of the Polish forces attacking Cassino, and make feints and demonstrations on its front. Twenty-fifth Battalion was to be prepared to counter-attack the enemy if he attacked the Polish right flank and, in conjunction with 26 Battalion, was to fire on known enemy positions and be ready to fire mortar concentrations on ground over which the enemy was likely to advance. During the morning there was some light shelling of the battalion's position but otherwise the day was very quiet and the men were able to enjoy the beautiful weather.
At 11 p.m., however, the quietness was shattered and the darkness illuminated by a thousand guns firing a terrific barrage, the opening of the great offensive. The bombardment continued all night and from the battalion's elevated position the spectacle was an amazing one. "All L let loose at 11 p.m.," wrote Wakeling, "when all our artillery opened up ... firing on the whole front right out to the coast. We had a grandstand view as we are forward of our guns at Cassino. Heavy shelling up to the time we turned in -- 2 a.m. At daylight Monastery was obscured by smoke. Our arty active all day. Saw our Kittyhawks bombing beyond Cassino. Ominous silence at dusk but only a few odd shells in our area during the night."
About eight that morning (12 May) an enemy aircraft dropped a bomb near one of the hairpin bends of the road about 400 yards south of the battalion but no damage occurred. The enemy opposite remained very quiet and there was little shelling. In case the Germans had withdrawn and to test the strength opposite the brigade, a fighting patrol from each of the three battalions was to probe the front.
On the night of the 13th a patrol of platoon strength from C Company, under Lieutenant Milne, was to reconnoitre Point 708, which was 6oo yards south-west of 7 Platoon's forward posts, and if possible occupy it; supporting fire from A and D Companies and the mortar platoon was available if required. However, at dusk Germans were seen near Point 708 and were engaged by mortars; three hours later enemy machine-gun fire from houses farther north and also to the southwest was replied to by mortar fire. Shortly afterwards the mortars were again in action when lights were seen in one of the houses. Twenty-fourth Battalion's patrol had met strong opposition, and as it was obvious that the enemy on the front was still in some strength, the patrols by 25 and 26 Battalions were cancelled.
The artillery was still bombarding the Monastery and the men watching from the battalion's position could see "pinpoints of light dancing all over the valley below". Skyline movement or perhaps an incautious cigarette brought a few bursts of Spandau fire overhead and a greater interest by the watchers in their immediate neighbourhood.
Sunday, 14 May, brought good news of the progress of the offensive, though the Monastery had not then fallen. There were also orders for the relief of the battalion and consequently, in keeping with the mantle of wild flowers which covered the countryside, an atmosphere of happy anticipation and good fellowship prevailed. The battalion was not to escape from the sector without further casualties, however, as two men were wounded that day, and at two o'clock the following morning a few shells fell in the position, wounding another two men, one of whom subsequently died.*
On the 16th heavy rain fell and the thunderstorm which accompanied it completely overshadowed the bombardment of the Monastery which was still proceeding. That day one man was killed and another wounded. In this sector the 25 Battalion had suffered a total of four killed, one died of wounds and twenty-three wounded.
It was high up on the route to Terelle, on the 15th of May 1944, that Mac was wounded in his right hand by a piece of shrapnel smashing the main joint of the fourth finger and passing out above the wrist. In the same blast a soldier next to him lost a leg and later died -- the incident referred to in the above account.*
Mac has marked the place on his topographical map with a pencilled cross below the last switch-back approaching the top of the road. This is near the spot marked on the Battalion Location Map (see above) by a flag and 25 (30 April) indicating the position of the battalion at that time. Also marked with a cross on Mac's topographical map is the village of Furmerapido, just about four kilometres west of where he was wounded and immediately below S. Elia that may well be the location of the field hospital where he was treated. (We will eventually rescan this map for better quality)
Interpreting this map is helped by reading the history of C Company.
The dates marked on his map, i.e. 25/5/44, 20.5.44 and 11.5.44 and 11.5.44 marking the line running up the map through Cassino and through the Mainarde Ranges is the German defence line called by them the Gustav Line that they defended successfully for so long and at such terrible cost to both sides. The Germans were to the north-west of that line and the Allies (our side -- NZ, Italian, Polish, Indian, French, British and American) were trying to force their way through from the south and capture the city of Rome. The line marked 25/5/44 and 20.5.44 is where the Germans had prepared fall-back lines of defence that they called the Adolf Hitler Line.
The defeat of Cassino that Mac witnessed the start of allowed the Allied army to sweep through and capture Rome on the 4th of June 1944.
Troops fighting in the mountains suffered unusually high rates of shrapnel wounds resulting especially in head and eye injuries.
Cassino Portrait of a Battle (Fred Majdalany, pages 206-207)
A shell or mortar bomb bursting on the flint-hard slope of a mountain had much more damaging effect, and the fragments of metal flew farther and less predictably. In addition the troops were denied, as we have seen, the normal cover of trenches as these could not be dug into the rock. Their only protection was the sangar , a breastwork of loose stones. A concentration of shells bursting above them could strike down into the heart of these inadequate sanctuaries. In such conditions shrapnel could kill or wound at a range of a hundred yards or more, and many serious injuries were caused, not by the shells themselves, but by the sharp pieces of rock they sent flying in all directions.
Noeline received this telegram from the Ministry of Defence
Another telegram arrived at the same time from Mac saying PLEASE DON'T WORRY INJURY IS NOT SERIOUS È FONDEST LOVE È MAC È È
Then a few days later INJURY IS NOT SERIOUS ANXIETY UNNECESSARY È LOVING BIRTHDAY GREETINGS È MAC COLE È È
Mac's finger was amputated at the main knuckle and he was on a hospital troop ship home having, as he was pleased to say, "never fired a shot in anger". He arrived back in New Zealand 5/8/1944. His subsequent disability pension kept him in a life-long supply of cigarettes and gin -- a most satisfactory thing to be sure.
Mac derived a great thrill from being in Italy and not far from the Isle of Capri where his in-laws, the Cimino family, are reputed to have lived before one of them immigrated to New Zealand in 1841. During periods of leave he enjoyed attending Italian light opera and of course sampled their wine.
Mac was required to attend an Orthopaedic Specialist at Wellington Hospital to have his injury tidied up and a bone removed from the back of his hand. This was followed by massage treatment. While overseas he accrued 28 days leave He was finally discharged for medical reasons on 20/3/1945 having served in New Zealand for 2 years 140 days and Overseas for 1 year 30 days.
Michael recalls
My father must have arrived home during the night because I remember going into my mother's room in the morning and there he was sleeping in the bed and I didn't remember him at all, but the uncertainty didn't last long.
My mother had iced and decorated a "welcome home" fruit cake with wee icing figures, including a tank and field gun. I was most impressed. (Later on it was my father who did the elaborate cake decorating.) There were the usual war souvenirs: a machine gun bullet bottle opener, some Egyptian brass objects and coins, shoulder pips, badges, service medals, a set of enemy aircraft silhouette identification cards, some maps and so on. For me they were treasures indeed.
He made wooden toys for Ann and me. I particularly remember a tip-truck that was large enough to sit on and two-storied dolls' house for Ann that had a hinged roof and contained cleverly made furniture and fittings faithful to the modern style of the period.
To be continued...
---
Contact us at cole@familycole.net Return to Home Page