Thomas Ritchie's Diary
[Scanned from 24 photocopied sheets provided by Nola. This section ends in mid-sentence so must be incomplete. I have corrected obvious typos, leaving what may be Ritchie's spelling as is. However, accuracy will only be assured by checking against original diary.]
Sun 28th, (1863)
All went to hear Scott Porter and sat in my Uncle's pew, next to Harlands, (of Harland and Wolfe) a great friend of my Uncle's.
Mon. 29th
A very busy day and our Departure. Adair and I went to Co Down Station, to meet our companions, T. Hay, Joe Martin, H. Ferguson, and Jonny Nelson. After the luggage was deposited, took them to Plimmer's to have the photos taken. Oh, I met my cousin Jane Cole in the street, on her way to "Ritchie Grove." She asked me to call on Miss Harper, who was leaving to marry Jane's brother in India. I waited at the gate. She went to the door, a servant came and went and came again. Oh, I was sorry for her, she came to me in tears. I asked her to come to the train, to see me off, as I was going to NZ. She said "I am going to comfort your Mother, you naughty boy, to go and leave her." I left "Seaview" at 6pm accompanied by my Uncle, Mrs Pretty, and little Annie and my brother James, to see me off on the boat for Morcombe. The boat left at 7pm. A very calm sea, and a good night, and I was not sea sick.
Tues. 30th June am.
Arrived at Morcombe. We all went on shore and had breakfast. I saw shrimps for the first time, but did not eat any. An hour after, boarded the train for LONDON, 250 miles away. The Express passed through many large manufacturing Towns, full of tall chimneys and lots of smoke. Arrived in London at 6pm. The housekeeper at our prearranged lodgings met us at the train. Slept soundly, very tired.
Wed. 1st July
Went with Adair, to the Shipping Office and paid the balance of passage money, the to the Bank of England and got gold for all our Notes. Saw St. Pauls, Royal Exchange, Wellington's Monument. All hands off to the Railway Station, our luggage was plied up on a two-horse wagon, we all sat on top. Went to East India Dock, nine mile distant. Saw little of London. Got to the ship [Lancashire Witch] at 12 noon, went on board at 5pm. The loading of luggage and stores took all night.
Thurs. 2 July
Left East India Dock with two tugs towing the ship down to Gravesend, anchored at 6pm.
Fri. 3 July
Lay at Gravesend all day. Our Capt. West came on board with the Officers and crew, all dock hands left.
Sat. 4 July
Weighed anchor at 12 noon with 2 tugs and 2 pilots - one London and one Liverpool. The London pilot and 2 tugs left us at the "Deal". Sails were immediately hoisted. It was blowing a nice breeze at the time.
Sun. 5th July
My 20th birthday, but I did not tell anybody, and no notice taken of it. Calm and waters dead. A service was taken on deck, in the evening. It blew up fresh and we passed "Beachy Head" at 8pm.
Mon 6th July
Day fine but a side wind, sailing at 12 knots. At 5pm the Pilot left us. Shortly after, the wind changed right ahead, and the sea got rough, I got sick.
Tues 7th July
Sea rough, wind ahead and making no progress, just sailing backwards and forwards across the Channel. I remained sick, eating nothing all day.
Wed. 8th Thurs. 9th July
Wind still ahead, and I was sick and ate nothing.
Fri. 10th July
Wind fair, still sick, eating nothing, but a little arrowroot mixed with Port Wine, and cannot keep that down. Sailing at 10 knots.
In the evening, a great stir among the sailors, which lifted my spirits a little.
Sat 11th July
Wind fair, going 7 knots. I am much better and eating again. Passed many ships but a long distance off.
Sun 12th July
A great day in Ireland. Making very little progress, water dead calm. Church service at l0am. After that, a good dinner of pig's cheek, fruit pudding with lots of currants and raisins and after a glass of Grog, drank to the glorious, pious, immortal memory of King William of Orange. For tea a jam pie. Church service in the evening at 6pm. Hugh Ferguson complained of pains in his back. Going to bed at midnight, he woke all the hands, shouting. A Dr came and ordered him into Hospital and put six leaches on his back, where the pain was, and said it was lumbago. Oh, a lot of Yorkshire men on the opposite side called to Ferguson to "shut up." Says another, "he's being confined etc!! It made Martin and Hay to shut up. Sailing very little. In the evening, three fellows went up the rigging to the foremast to cradle. Sailors followed them and caught two of them, tied them hand and feet to the mast. The other slid down to the deck by rope. One of the men's wives paid the fine of 5 shillings, and he got down. The other one used a knife, and cut himself loose, caught a rope and slid down, but cut his lip on the way. Adair and I sat with Ferguson in Hospital all night"
Tues. 14th July
Fair wind, sailing 6 knots, passing opposite of Gibraltar. In the evening a lot of dancing, country dances and reels and singing comic songs. Ferguson a little better, Hay and Martin sat up with him.
Wed. 15th July
Wind fair, doing 6 knots, and had averaged 7 knots since leaving "Gravesend." Passed many vessels going the same course, and one large ship to the west of us. It was seen that she was a man-o-war, and when she came near, we hoisted our Union Jack and she hoisted her flag and went away North. We counted 50 guns.
NOTE
The American war was on and we hoped to see the "Alabama".
The Captain issued orders, that the passengers are to sweep the space under and opposite their berths every morning, and to take their beds up on deck every Wednesday and Saturday, to air them, and to sweep out their berths every morning. The Captain has given the liberty for the gentlemen to dance with the ladies for an hour every evening. The "Lancashire Witch" is a fast sailing ship. She was a transport ship during the Crimean War. There are close on 500 emigrants aboard. We seem to be the only ones who paid for our passages.
All married men and their families are on the tween decks. All single men are on the lower deck, with high ceilings, where the troop horses were carried, and the deck below, all the stores and luggage etc. We six are by ourselves, on the lower deck, even have our own mess. Two of us take it week about to carry food, when cooked, and wash up after every meal. Jonny Nelson is my partner for a week when our turn comes, a jolly good one, he is too, and we get on fine together. Every week, provisions are served out by weight (according to the Act of Parliament). Adair attends to that and keeps them up to the mark. Of course salt meat, beef and pork, are the same every day of the week, soup, bully beef in tins. Very good all the food is, first class and the water of the best. Water is distilled from the sea by arrangement that cooks the food. The Cook is a first class one but he has a big staff. Adair is on the "right side" of him, so our mess is in favour of him. We all have lots of friends among the passengers, but I do not have any particular friend. Some of the married women come with their sewing etc and sit on deck and talk to me. I do believe I was spoken of as the "very quiet young man."
Thurs 16th July
Fair wind, doing 5 knots. In a few days, we expect to catch the N W Trade Winds that will blow us to the Line (Equator). The weather is hot today, and we were given lime juice. It was a very pleasant drink, one spoonful, added to one pint of water and a little sugar, makes a drink resembling lemonade. The hour for dancing has been monopolised by the Scottish men, dancing Country Dances and Reels. The Captain grew tired of looking at them, so asked for some English Dances, and was told that there were some English men aboard that they thought could dance them. It was our mess, that was referred to, so we were sent for. When I say we, I mean R Adair, T Hay, Hugh Ferguson and myself. We all danced at the same Balss, at home. After finding partners amongst the ladies, we first danced the 1st Set of Quadrille and we got great applause from the crowd. Then arose the conversation as to what country-men we were? Some said we were from Ireland and others that we were English, for Irishmen could not dance anything of that sort!!
Fri. 17th July
Fair wind, 6 knots. All day playing draughts. A man tied his washing up in the Shrouds, to dry, and in the evening, he went up to take it down, but the sailors tied him up. After an hour of shouting and howling, the Dr. came forward and ordered him to be taken down, as his wife was within a few days of her confinement. When he was down, he gave the sailors two shillings and the Mate gave them two and sixpence, the price of a bottle of Grog.
Sat. 18th July
Fairly strong wind, doing 10 knots. The sun growing hotter every day since we left Ireland and not a drop of rain. It is a very pleasurable trip. There is a large ship, sailing across us, flying a flag with red and white stripes, bound for America, and not more that a quarter of a mile off. Get potatoes today, for tomorrows dinner, they look as if they were kept in sand.
Sat 19th July
Just sixteen days since we have left Graves End. Very calm sea, Service after a good dinner. Another child died of gastric fever, had a prayer meeting for the parents, apparently one had died previously.
Mon. 20th July
Calm and very hot, now 29 degrees North of the equator. A change in the amusements, a lot of fencing with gloves, amongst the passengers and Sailors. Another child died of fever.
Tues 21st July
At 6am the Capt. and 2nd Mate came down and roused us all out of beds, giving 15 minutes to be on deck, and to remain there all day, so we had breakfast, dinner and tea up there. The reason given was for the lower deck to get fresh air. They were afraid of fever. There are 496 aboard without the crew. This morning at breakfast I saw a butterfly but could not catch it. Saw flying fish at 8am. A sail on the horizon 12 miles off, same course as us, we passed her at 2pm. Now sailing at 9 knots with a fair wind.
Wed. 22nd July
Very hot wind, fair sea, doing 6 knots. Hundreds of flying fish and other sorts. This evening fencing with gloves, lots of black eyes and bloody noses.
Thurs. 23rd July
Very calm and very hot, 3' knots today. The discussion today at the meal times was of the woman who had given birth to a child two days before the ship sailed and had travelled 200 miles to our ship and they are now aboard in the best of health. I saw a fish the size of a man leap out of the sea.
Fri. 24th July
Calm, going two knots. Sails have been hoisted over us as awnings to keep the sun off, the breeze underneath helps to keep away the heat. This evening a child died of fever. We saw two ships 10 miles off.
Sat. 25th July
This morning I got up at 4am to see the child buried at 5am. Two sailors brought the corpse sown up in a canvas weighted at the feet and laid it on the Hath Board, a flag covered all and it was laid half over the Bulwoeks (or side of the ship). They held fast to the Board and flag while the Parson read the Burial Service. When he came to the part "commit this body to the deep," the sailors lifted up the end of the Board and the corpse slid into the sea. The Parson read on and if you weren't watching intently, you would never know that the body was gone. It was all done so reverently and I was interested to have seen it The Schoolmaster acted as Parson. We saw two ships a long was off and some large fish.
Sun. 26th July
Today, the hottest yet, at noon the sun was exactly overhead. No shadows and after this it will not be so hot, for we are leaving the sun behind us. After 12am, our shadows will point to the South instead of the North. It is a very calm and hot day, the water dead. Some of the mates had a swim in the sea. There is a ship, half a mile off, she hoisted Colours came close to us and asked for the latitude. Our Capt. asked him to come aboard. A boat was lowered. The First mate and the Dr. went and brought the Capt. aboard our ship. He was from Hamburg bound for Rio de Janeiro. The First Mate told us to write letters and the Capt. would post them in Rio. We all started to write, when orders came that they would be taken in five minutes. I was so confused that I did not know what to write and after all that, the Capt. did not go until the evening.
Mon. 27th July
Still calm and waters dead. The Barque that was with us is now about a mile away to the west. In the evening, the Capt. came in his own boat and stayed two hours. His sailors sat in the boat and one of them drove a boat-hook through a large fish. It came to the top dead but before he could take it into the boat, a shark got it. Before the Capt. left, it blew a nice breeze. Now sailing 3 knots.
Tues. 28th July
Morning calm but after dinner, it rained tremendously, the first that I have seen since I left old Ireland. We stood under the boats a little while but had to run down below and before we got there, we were wet to the skin. Wind up and sailing 5 knots.
Wed. 29th July
Morning fair, doing 3 knots. It rained, the wind west when the sails were trimmed, the ship lay over and the decks were wet and slippery. A great many folk fell. It was a sight seeing men, women and children crawling, falling and sprawling. The first that we have had like it. Barrels and buckets were rolling about, it was very amusing to watch but not to take part in.
Thurs 30th July
Very similar conditions, sailing at 5 knots, l0 miles north of the Equator. Quite a number of ships in sight. The Capt. came to hear that the cook had yeast, the passengers supplied the flour and he baked them loaves of bread, charging 2d per loaf. The Capt. sent the First Mate around the passengers taking note of all money paid, then made the Cook return their money. We did not make a complaint. But the passenger may show their pleasure at the end of the voyage.
Fri. 31st July
Ship same position and we walked with bare feet to save accidents. A young lady from Dublin went "out of her mind". She had a "fit" and was carried up on deck. When she came to, made all around her run for their cabins. When passengers came on deck to see what had happened, she threw a bucket of water over them.
Sat. 1st Aug. 1863
Ship still in the same position, doing 9 knots. The wind is blowing from S.E. called "variable"
Sun 2nd Aug
Wind still SE. doing 9 knots. Service held. Met a large emigrant ship, too dark to hoist Colours. Passed very quickly. 12pm. ship 50 miles off course through head winds.
Mon 3rd Aug
Sailing 9 knots. All have to be on deck during the daytime. Some Germans stayed below, so the Mate went down below to bring them up. He was struck by one of the germans, who was bought before the Capt. made to show his ticket, his name taken and told he will "proceed" against him at the end of the voyage. A passengers wife was making gruel in the galley where no one is allowed except by orders from the Dr. One of the cooks ordered her out but she would not go. The Cook took it off, spilling some of it. She went for her husband who came and struck the Cook with a hook, cutting him and he was admitted to hospital. The husband went before the capt and was put in irons.
Tues 4th Aug
Same course, 9 knots. Now a month since we left Gravesend, but does no seem more than a fortnight to me. Time passes so quickly. This evening we enjoyed porridge. A great number of porpoises playing around the ship. Another child died of fever.
Wed. 5th Aug.
Sailing 4 knots. Side wind. We crossed the Line last night at 11pm. Just 33 days since we left Gravesend.
Thurs. 6th Aug.
Things just as usual. No shaving.
Fri. 7th Aug.
Wind fair, doing 9 knots.
Sat. 8th Aug.
Wind fair, doing 9 knots. Not so hot now.
Sun. 9th Aug.
Doing 9 knots, back on right course and 80 miles off the Brazilian coast and leaving the Line far behind. Weather much cooler, resembling a warm summer's day in Ireland. Service as usual.
Mon. 10th Aug.
Side wind, doing 5 knots. There was a stowaway on board. He was a butcher. The ships butcher feel sick and the stowaway was made to take his place. His name was Plummer. A row developed between him and the Cabin Steward at the Galley. I happened to see the whole thing. The Steward, a tall man, struck the other, a very short man, for spilling eggs in the cook-house. There was a fair fight, the butcher was victorious giving the Steward two black eyes and a bleeding forehead.
(NB. Little Plummer came to the Chatham Is and was in guard over the Hau Hau prisoners. Married a sister of Mrs Briscoes in 1886).
Tues. 11th Aug.
Doing 10 knots. Saw a large black and white bird sitting in the rigging. Heard the birth of a child.
Wed. 12th Aug.
Sailing 7 knots, some showers and squalls. A few ropes broken.
Thurs. 13th Aug.
Sailing 7 knots. Fair wind. I asked the Second Mate what the latitude was. He said 13' 27". Another child born, another died.
Fri. 14th Aug.
Fair wind, doing 9 knots. A few squalls and light showers. A man was tied up in the rigging. His wife went to the Capt. and he ordered him down in the evening.
Sat. 15th Aug.
Sailing 10 knots, wind fair. Passed by a ship.
Sun. 16th Aug.
Wind fair, 10 knots, getting colder. Another birth. Passed a ship bound for the cape.
17th Aug
Wind Fair, doing 10 knots. Saw a black and white bird, a Cape Pigeon. Also saw an Albatross.
Tues. 18th Aug.
Wind fair, doing 8 knots. Three or four pigeons around today. A child died. A lot of luggage on deck. A row between the sailors and the Mates.
Wed. 19th Aug.
Wind fair, 11 knots, 35' south of the Line. Joseph Martin took ill, pains in the head and stomach and taken to hospital.
Thurs. 20th Aug.
Wind fair, 14 knots. Sailors taking down the light sails and putting up heavier ones. Joseph Martin has inflammation and fever. He was bled and his head shaved. One of us had to be with him constantly.
Fri. 21st Aug.
Wind fair, 10 knots, a heavy swell at sea. There are hundreds of beautiful coloured birds of different kinds.
Sat. 22nd Aug.
Another child died. Joe is much better but very weak~
Sun. 23rd Aug.
Wind fair, doing 9 knots. Joe got up for a little while.
TOOK NO NOTES FOR FOUR DAYS
Fri. 28th Aug.
Wind fair, 6 knots. During the past week, the sailors have turned over the whole of the Bottom Hold looking for a case of Castor Oil and other medicine without success. Had not been put on board, so obliged to put into the Cape to get them.
Sat. 29th Aug.
At first, no wind and calm. 12 noon a fresh breeze blew up and by 5pm sighted land, very small but by dark, much larger.
Sun 30th Aug.
In Simons Bay, mountains all around. Saw a steam boat and thought it was a mail-boat. I wrote a letter but the boat turned out to be a Federal Man-O-War cruising about and came close to us. When seeing our "Union Jack', it halted and we sent a Pilot aboard her. After an exchange visit was paid to us, a lot of questions of our pilot was asked concerning vessels that had been in the Bay. ie, the ship that had left the Bay the night before last, where she was bound for. Our Pilot said that the Capt. would not tell him. How many guns? The Pilot replied twelve. What course did she steer? How long was she in the Bay. When the Pilot left her to return to our boat, they immediately wheeled about and steamed off.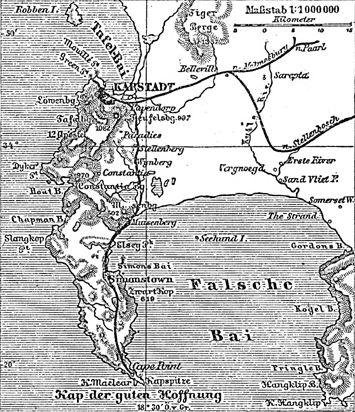 About 6pm, we dropped anchor about a mile from a neat little village. Before it was dark, a boat rowed by four men, called the Port Boat, came out and asked us what was the matter since we were flying the yellow flag of quarantine. The Capt. replied that he wanted drugs. They were asked if there were any diseases on board. The Capt answered "Gastric Fever" How many deaths? Answer, ten. How many passengers? 496. How many seamen 32. When do you want the drugs? 5am tomorrow morning as the Capt. wanted to be off as soon as possible. They were asked where were we from and where bound for. (I plainly heard all this conversation).
At about 8pm and a full moon, we saw the village quite plainly. There was the HMS Himalaya loaded with troops for NZ. She was to call at Ceylon. There were a few other vessels in the large bay.
At 10pm, the Man-O-War fired off a gun; a tremendous report echoed through the mountains. The village looked very attractive with its chalk-white houses and we could hear the clocks striking in the homes. The coast line at the foot of the mountains with white sandy beaches, looked splendid in the moonlight. The trumpet sounded every two hours and the bells ringing every ½ hour on the Gun-boat, could be heard very clearly. The ship was steady and the deck level. With the moonlight so bright, we promenaded the deck until 10 o'clock in the morning. During the morning, a great many boats came and rowed around our ship but no one was allowed aboard and none were allowed ashore on account of the quarantine.
Mon. 31st Aug.
A beautiful morning, sun bright, business going on in the village; coaches drawn by horses. Drays with six or seven bullocks started off for Cape Town. With glasses we could read the sign boards in the villa There were two places for worship a short distance out of town which had their graveyards. There is only one road into town and that runs along the beach for about three miles then goes between two mountains.
At 7am, the Port Boat took an order for what was wanted: 4 sheep, 1 case of rum, beef melons, and a bag of holystone etc. Passengers were not allowed to get anything. Immediately the sails were hoisted, anchor weighted, and in less than an hour, we were on our voyage again.
We were told to write letters and give them to the pilot who left us outside the bay. But after he had gone, we were told that our letters might be returned to us as we had disease on the ship. He dare not take them. I remember seeing table Mountain with it's flat top. At night, the sky was illuminated by the lights of Cape Town.
(NB. My foolscap paper all done, no notes for four days, but on the 5th Sept. continued in a small notebook.)
Sat. 5th Sept.
Saw between 30 and 40 porpoises racing passed the ship. About 15 abreast, 11 jumping up at the one moment and going down together. The nicest thing that I have seen since coming away. Tonight, an adult died aged 40.
Sun. 6th Sept.
Sea rough. Sailors reef the sails. Two children died.
Mon. 7th Sept.
Two children buried and a woman died and buried too. She left her husband with six children. Very rough seas, frequent squalls, now under four reef sails.
Tues. 8th Sept.
Very rough seas. Some big waves coming on board and drenching those on deck. A great number of birds seen and one of the Mates caught an Albatross and kept it on deck for the passengers to see. They are a grand bird. After it was admired, the Capt. ordered it to be let go as it gave us a fair wind! Tonight, another child died making it 15 deaths.
Wed. 9th Sept.
Continues rough, only four reef sails. The child was buried.
Thurs. 10th Sept.
Last night, another child died which was three out of one family of four sons, only one left. Buried only two hours after another died which was only a few weeks old. Total deaths now, 17.
Fri. 11th Sept.
Fair wind at deck level which makes it a change from the past week. This evening, as it grew dark, there followed lightning flash after flash till bedtime. Then thunder - louder than I have ever heard before followed by rain in torrents.
Sat. 12th Sept.
Another child died. A very rough night but keeping our course. Another albatross caught.
Sun. 13th Sept.
Rough seas, head wind, very cold. No service on deck, had to go below .
Mon. 14th Sept.
Fair weather, doing 12 knots up to 14 knots. The ship rolled tremendously nothing like it before. Men and women tumbling side to side, very amusing and frightened to get up and move around. Wind got stronger and had to reef the sails but the ship did not stop rolling. I, myself, got tossed around but crawled out unhurt. It was laughable to see men down and frightened to get up as if they did, it was only to go down again. Another child died and the parents in great sorrow as this was their only child.
Tues. 15th Sept.
Very rough but sailing 10 knots. Colder every day. Latitude 42'21" east.
Wed. 16th Sept.
Fair wind, doing 9 knots. Our amusement is Draughts, reading, and skipping (as the boys and girls do at home), for exercise. Sometimes there are thirty to forty ropes going at one time, men and women running in and out without stopping the swing of the rope. Another child died making 20.
Thurs. 17th Sept.
Sailing 8 knots. Fair wind, very cold.
Fri. 18th Sept.
Fair wind, doing
Sat. 19th Sept.
Wind fair, doing 9 knots. Still cold and no sitting on the deck now.
Sun. 20th Sept.
9 knots. Latitude 44' 2" south, Longitude 70' 14" east.
Sea rough, ship rolling, rain in torrents. Spent all day below.
Mon. 21st Sept.
Ship rolling all night and today is bad. You can not sit without holding onto something.
Tues 22nd Sept.
Wind fair, sea rough, cold, evening calm, deck level. Enjoyed a dance with the ladies. Another child died.
Wed. 23rd Sept.
Very rough all day, some bad falls and cut heads. The ship had not tossed so much since I came aboard. The sea has such swells, as high as the Mourn Mountains, and following one another making our good ship rise to the top of each one and then leaving us to mount the next. I never tire at looking at the splendour of it all. Only the cold.
Thurs. 24th Sept.
Rough wind, fair going, doing 10 knots. In the evening there was a fight between two married men which caused a stir.
Fri. 25th Sept.
Wind fair, sailing an average of 9 knots. A woman gave birth to twins. It is so cold on deck. reading below.
Sat. 26th Sept.
Wind fair, not too rough, but cold, doing 9 knots. A great many birds.
Sun. 27th Sept.
Wind fair. We have sailed 1650 miles. A snow storm and saw some snow-balling on deck.
Mon. 28th Sept.
Not so rough now, sailing at 10 knots. Hail showers.
Tues 29th Sept.
Wind fair, 9 knots, day fine. Another woman gave birth to twins. Another child died.
Wed. 30th Sept.
Wind fair, doing 4 knots. Another birth and two deaths.
Thurs. 1st Oct.
Wind fair, day fine, sailing at 10 knots. Fri.
2nd Oct.
Wind fair, day fine, sailing 11 knots. Capt. gave a Steward a cuffing.
Sat. 3rd Oct.
Wind fair, day fine, doing 9 knots, coming into Australian weather.
Sun 4th Oct.
Fine, slight showers in the morning, doing 11 knots.
Mon. 5th Oct.
Fair wind, sailing at 10 knots. Fine spring weather. Another death which makes the total of 28. The sailors are cleaning up and preparing for landing.
Tues. 6th Oct.
Fine, fair wind, sailing at 11 knots. Getting the cables up and anchors ready. Lat. 48 ' o south, Long. 159 o west.
Wed. 7th Oct.
Day fine, sailing at 11 knots. sailors got the remainder of cables. Sighted land at 3pm. It appears to be the top of mountains. The land we see is only a lot of rocks called the Snare Rocks. We passed between them and Stewart Is. We lost sight of the Rocks before dark.
Thurs. 8th Oct.
At day break, we saw land, the south of Otago. It was covered in trees. Head wind and we had to tack.
Fri. 9th Oct.
Out of sight of land in the morning, calm. At 12 noon, a fresh breeze, sailing 6 knots. Came in sight of land again, opposite Dunedin, and when it became dark, we saw illuminations in the sky like lights of a town.
Sat. 10th Oct.
Land in sight, very near, looks covered in trees. inland, there are large mountains with tops covered with snow. South wind, sailing at 6 knots.
At l0pm, came in sight of Timaru where we had to land a number of immigrants. we hoisted a flag and the pilot came along side the ship. The Capt. told him to come around the other side of the ship to the ladder. He answered that he had to ask a few questions before he went on board. He asked if we had any sickness on board. The Capt. said that he would send for the Dr. to answer that. The boat came around to the ladder and the Doctor went down to the boat but we could not hear the conversation. The boat left and the Dr. returned up the ladder saying that the pilot would not come on board. There came on a squall, so suddenly that the Pilot Boat was in danger of swamping. Our Capt. gave orders for the sail to be made that the ship slowed and backed towards the Pilot. The sailor threw them a rope and the Pilot and his crew were glad to come aboard. We cast anchor in the Roadsted of Timaru at 3pm, just 98 days from Gravesend.
About 4pm, the official boat containing the Dr and the Inspector and Collector HM Customs and Magistrate seeing the Pilot in command, did not hesitate to come on board. Then the Pilot then told them that he would not have come on board only for the squall coming, as he turned from the ship. He said that he was glad to get on board as it saved them. The Officials found themselves in a trap. Our Capt. West told them that if they did not allow him to land the immigrants, he would put his ship in quarantine, then they would all have to remain on board during that time. Our Capt., by saying this, saved everyone from being quarantined. At once, preparations were made for landing.
Sun. 11th Oct.
At 5am, sailors were hauling up luggage on deck. A large cargo boat came out from shore, towed by a smaller boat, pulled by men. The cargo boat was filled with luggage and the immigrants sat on top of their luggage. There was a large shed on shore called Barricks, to receive them. I only saw from the ship. This continued all day until dark. It became rough and they had to tie the people in a chair as they lowered the last of the passengers to the last boat.
Timaru looked a nice little place with about thirty or forty houses built of wood scattered about. We lay about one and a half miles off shore. The day was fine till evening and we had many visitors from the shore all well dressed and respectable looking folk.
A lot of women passengers had come out to husbands, also sweethearts to be married. I heard that the wages were 30 to 40 Pounds a month. The visitors did enjoy a glass of our condensed water. One man declared he would travel 12,000 miles on that water. Put to sea in the evening.
Man 12th Oct
Off Banks Peninsula all day and got into Lyttelton at 4pm.
Tues 13th Oct.
Anchored off the quarantine island and there landed the sick. There was a lot of controversy as to whether we should have all been put into quarantine. But having been allowed to land passengers, they could do nothing but voice their criticism both vocally and by letters in the paper. It soon died down and the passengers and friends were glad. All the immigrants had barracks on shore to go into and live, but we passengers, had no where to go. We were landed, bag and luggage, on the wharf to look after ourselves. No one would give a hand with anything. All looked at us and called us "New Chums" as though we were not wanted. We had to pay for anything and everything. Everyone seemed so independent. But my brother, Robert Hutton, who came out to "Hall, Ritchie and Co." before us, was the salvation of our lot, otherwise, we would have been on the wharf all night camped with our luggage. Robert got Diamond who carted for Hall, Ritchie and Co, to take our luggage to a safe place (as it was "knock off time") and took the whole of our lot to my cousin's house (he being away in Auckland.) The next day, they all started on their own and very thankful for the hospitality.
The Witch
NOTES RE OUR SHIP AND Company
Our ship is a clipper, seen nothing to touch her. We passed every ship going our course, no ship ever passed us. Commanded by a good Captain West, two mates, 1st and 2nd mates. A boatswain (a good man), he having two mates, who commanded the crew, being divided between them. The 1st and 2nd mates have cabins. There is a house on deck, the Boatswain's cabin. In this, lives the Boatswain, his two mates and the Midshipman (as they are called). Two men who steer the ship called Quartermasters (they alone steer the ship), the sailmaker and the carpenter, all these live and mess together.
There seemed to be only a limited number of men on deck at one time, namely the Quartermaster, one of the Mates and the Boatswain's Mate (in charge of the sailors on watch), the Quartermaster steering the ship, the sailmaker and carpenter at their work. All the rest were in their bunks asleep, or just on duty. Of course, the Capt. comes on deck whenever he pleases, when he is gives an order. When he gives an order, it is called out by the Mate and repeated by the Boatswain, to his Mate on watch, then from him to the sailors, who answers "I, I, Sir".
When "about ship" is given as an order, all sailors on board have to come on deck, even the Cook. Passengers have their own deck, so this does not apply to them. I like to yarn to the Boatswain and the Sailormaker. I glean a lot of information from them. I did not make any special friends amongst the passengers and only talked to a few. All the others of our mess, had alot of friends. Joe Nelson and I kept to ourselves. The "spoony" ones, Martin and Adair. Martin was always "falling in love". To save him from marrying, Adair would go and "cut him out". Only of Adair, Martin would have got "tied-up". A married woman gave me a letter from a Miss Boyd, (like a fool) I showed it to Adair, so he answered it. Hence, a correspondence started between her and Adair, in my name and when it got a certain distance, he, Adair, cut and end to it, as a great lark. It caused Miss Boyd to become ill and was scarcely seen on deck until the end of the voyage. I was sorry and a fool I was, a lesson to me too. It was cruel of Adair and showed his character.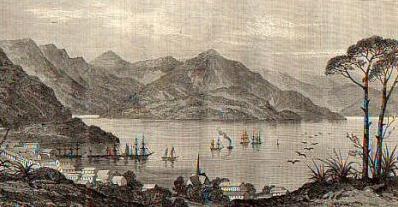 It was October 15th 1863 that we landed in Lyttelton from the "Lancashire Witch". It was good to see my brother Robert, who came out to "Hall, Ritchie and Co" some eight or nine months ago. He was living with my Cousin Thomas Ritchie, in a nice house, up on a rise, outside what was then, Lyttelton Township. The town laid out by a surveyor with straggling houses and streets of mud.
My cousin was away in Auckland, as "Hall, Ritchie and Co" was in Auckland as well as Lyttelton. Mr Thomas Hall lived in Auckland (a Belfast man too) . Robert was a alone in the house . I slept my first night with him, in fact, we all did. But if my cousin had been at home, this would not have happened. Everything was done for money, but at times, even for money, you could not get what you wanted. Everyone seemed very independent. Next morning, all started out to look for billets etc. Ferguson, Martin and Nelson went over the Hills to Christchurch. Adair went to Peacock and Co. as an accountant in the office. (He stayed in that firm and when it was afterwards Turner and Co., he was still in the business). T. Hay, being a grocer, found work in a little grocer's shop opposite Queen's Hotel. Harvey Hawkins found Hay, the very man he was looking for. Hawkins could not keep accounts and Hay stayed with that Firm until he came to the Chathams. Robert and I were glad to be able to help them, but relieved that they were gone before my Cousin returned. Martin being in the hardware line, got into Reece Bros. and afterwards Morrows, Bassett and Co. then finally Anderson's Foundry, where he stayed until he ended his business life, retiring to the Waikato, dying in the Waikato Hospital when I was living in Aria. H. Ferguson, a cabinet maker, brought all his tools with him, he went in Birdseys Hotel, as Boots, and afterwards became a barman, remaining the rest of his working life. J. Nelson went into the country, later to the West coast diggings, where he married and finally settled in Ashburton.
As for myself, Robert and I, thought it best for me to wait until my Cousin Tom returned from Auckland, as we did not like to do anything to offend him, as his Father and my Father were brothers and were still living and loving each other so. We expected him daily for a month, but I kept myself busy in the store (Hall Ritchie & Co) helping to unpack goods received from England packing up goods sold to the Drapers in Lyttelton, Christchurch and the country stores. etc.
The Post and Telegraph Office in Norwich Quay, Lyttelton
[ca. 1885] In the background are the offices of the New
Zealand Shipping Company and the shop of R. Forbes, ship chandlers.

Hall, Ritchie & Co. had been burned out, the second building had been erected in stone, being the second stone building in Lyttelton. The other stone building being the bank of NSW. This same building was later R. Forbes & Co. All other buildings were of wood. When I arrived this building had just been completed, and the Carpenter, Mr Mutton, had left. It had to be cleared of all carpenter's rubbish, which I took in hand and helped remove everything from the "Cameron Building" into it. This new building was along side the Post-Office, and had a cellar opening on to the sea with a private wharf opposite the cellar door, where the little steamer, "Enterprise" from Salt Water Creek, used to land wool. I would roll it into the cutter and it would be shipped to England. This was the work I was at, when Cousin Tom came home from Auckland.
Of Course I wanted to be off and doing myself directly, but he would not hear of it. I was to wait for an opening etc, and everything would be all right. In the store (Hall, Ritchie & CO.), there was a Mr Mansfield, Manager, Accountant. Mr Moore, Traveller, Mr Corry, and Robert, in charge of the safe and keys to the moneybox. This was as it was when I arrived.
In the home, I was comfortable, but I wanted to be doing for myself, and how to do this without offending my Cousin was difficult. I saw all the visitors that came to dine with my Cousin. One of the strangest looking man I had ever seen before, or even since. He had light yellow hair, hanging down in ringlets to his shoulders and dressed in a coat with silver buttons (a customs uniform). His name was Archibald Watson Shand. He was in the Custom's Department alongside Hall, Ritchie & Co." new premises. When he came to dine, he would talk about the Chatham Is where he had been Resident Magistrate and Collector of Customs for some years. He had been succeeded by Capt. Esdale Thomas. Mr Shand had rented or bought a house and land around Potts bay, Lyttelton and was getting ready for his wife and family, who he intended to bring up from the Chatham Islands. It ended in Mr Shand chartering Hall, Ritchie & Co.'s schooner, "Wild Wave" to bring his family up to Lyttelton. The "Wild Wind" was running in the Timber trade in Auckland, but she intended to sail to Lyttelton, to sail in the regatta on New Year's Day for the Cup which she had won twelve months before. After this, she would sail with Mr Shand to the Chathams to bring up Mrs Shand and the family.
Now after dinner, Robert and I would retire to our room upstairs. Many used to come and spend the evening, all the principals etc. living in Lyttelton in those days including Mr Coster, Manager of the Bank of NZ. All came nearly every night and their main drink was champagne. I often heard Mr Shand speak during dinner about the Chatham Is, his prisoners, run away sailors, and road-making etc. I never thought that I would see the islands then.
When Mr Shand had chartered the "Wild Wave" to go to the Chathams, it came about that he would take down a lot of goods to sell or exchange for oil or whalebone etc. When Corry, Robert and I were getting the goods ready and packed up, I heard all the remarks re the goods. It appeared that anything that was not saleable in NZ, was packed up, invoiced and sold to Mr Shand. Amongst them was a large case of jewellery, valued at 80 Pounds, consisting of all sorts of broaches, wristlets, hairpins etc etc. The total value came between 700 - 800 Pounds.
New Year's day came and the "Wild Wave" with Capt. Hewerson, competed in the regatta (Cup Race) which she won the year before. But through some alteration in the Rules, a little cutter, ten tons belonging to one, Stanley, won the race. Great was the indignation over the little ten tonner being allowed to race with vessels over 100 tons. A great number competed and all were trading vessels who came in and out of Lyttleton. The "Wild Wave came second. All my Cousin's friends were aboard the "Wild Wave" there was a great number aboard. Robert, Mr Shand and I were there too. We enjoyed it. There was no wind, which was the cause of the little cutter winning. There was great excitement when the Peacock vessel's mast went overboard. There were lots of protests etc against the little cutter.
My Cousin was to be married to a Miss Carson, of Belfast, who was on her way out to a relative in Melbourne, where the wedding was to take place. I was heartily sick of working for nothing. My Cousin seemed to look on Robert and I as slaves, while Adair, Hay and all who came with me, were making money. Robert was only getting his keep as if he was serving time to learn a trade. I was afraid to do anything that my Cousin did not approve of, to prevent anything going home to cause pain to my Cousin's Father and my Father, who were brothers and so attached to each other, and so interested in us doing well etc. Now I was determined not to be in his Home when his wife came home. So I asked my Cousin to give me a passage in the "Wild Wave" to see the Chathams (more to get away.) I would be back in NZ long before he returned from Melbourne. "Oh," he said, "by-the-by, I'll ask Mr Shand to dinner and have a chat with him."
Mr Shand came and spent the evening, but all their talk about Robert and I, was after we had retired. I was told the next day, that Mr Shand would not hear of such a thing, of a young man like me going to such a place. "Well," I said, "I will go and have a look at the Island anyway." My Cousin then told Mr Shand, that if he sold the goods, he was to get land and sheep for me to start up with.
The vessel was to stay at the Chathams for fourteen days. The night before we sailed, my Cousin said that Mr Shand said I was not to take any money with me to the Chathams, that he would supply me with all the money that I needed. He then asked me if I had any money, and I told him of the 25 Pounds, the balance of what my Father had given me. He gave me a receipt which I have to this day, which is all that I ever saw of it. Luckily, I did not give him all my money, as I still had 6 Pounds which I was very thankful for afterwards.
I had a trip to Saltwater Creek. My Cousin had a deal with a Mr. Mitchell of Tattersalls, Christchurch, in Australian horses. There was one thoroughbred mare amongst the Lot. Both Mr Mitchell and my Cousin wanted he so there was some trouble between them. However, my Cousin sent her up to "Dampiers" run at Saltwater Creek. (The same Dampier of Dampier's Bay). Now he told me that he wanted the mare in Lyttleton. I was to go up in the little steamer, "Enterprise" (taking saddle and bridle) to Saltwater Creek for the mare and ride her home to Lyttelton. I got there and found the thoroughbred Mare a "bag of bones', with a pot belly, all that was left of her. However, she carried me home. Oh, no roads, only tracks with flax and tussock each side, no bridges across the rivers and creeks. In crossing rivers, I watched a great bullock team and followed that. These were nasty to cross for a "new chum". Mr Mitchell had been pointed out to me so I knew him by sight. He saw me with the mare and looked very earnestly at her not thinking that I was taking stock of him. When I told my Cousin this, he had her put into the stable at night, which I did. The paddock was about one mile up the hills and this continued until I came away in the "Wild Wave".
Mr Henry Redwood of Blenheim, sent down four race horses to run at the coming races, with a letter to my Cousin to see if the horses landed safe at Mr Lance's at "Islam." So I had to do this to do. The four horses, (I forget their names), had two jockeys with them. I rode one leading the other. I followed the others over Bridle Path, over the Port Hills to Christchurch, and on to "Islam" and saw them safely there. Mrs Lance told me that Mr Lance was at the Cricket Grounds, where I found him in his flannel suit. Now this was the extent of my travels in Canterbury before coming to the Chathams.
I had spent the 15th October 1863 to February 1864 in Lyttelton and had not earned one penny. Well, I think I learned all about the wholesale warehouse and management. I was there and saw things in the open before the Offices were completed, and then where they were hidden etc. All the drapers and storekeepers from Christchurch, Rangiora and Timaru came for their supplies. They were shown the goods and the English invoices with 25%, 50% and 100% added on according to the sort of goods etc
I can remember one firm being Beath & Co.
While my Cousin was in Auckland, there was a lot of goods landed from the ship "Hollyrood" which was slightly damaged. It was inspected by the Marine Surveyor and all damaged goods were to be sold by auction rooms (Allports) and sold for a mere trifle. Hall, Ritchie & Co Accountant, Mr Moore, and Mr Corry, the traveller, bought them and brought them into the Store. They invited their customers to come and buy them, so a good deal of money was made out of that transaction. I noticed a great hurry to get rid of it all before my Cousin would return. Mr Mansfield and Robert had nothing to do with this transaction, although offered a share. After my Cousin arrived home, he soon got to know, because of the damaged goods being landed from the "Hoolyrood." At dinner, Robert and I were taken to task about it. It was a nice thing to happen when he was away. If Moore and Corry had done it for the Firm, it was "good," but for themselves, it was the opposite. I was sorry for Mr Moore, he was a fine fellow. Mr Moore was sacked the next day, and I heard that he left for Wanganui, but I never heard how Corry got off. He must have put all the blame on Moore. However, years afterwards, actually, in 1875, I found a firm in Wanganui of Moore and Corry, also a station, all highly respected.
Sailed for the Chathams
After we got out of the Heads, the Capt. said that he would have to take ballast at Pigeon Bay before he could go to the Chathams. Mr Shand went on shore to see Mrs Hay (who had lost her husband when coming over the Bridle Path last December.) I can remember the inquest.
One fine morning, we made the Chathams off "Matarakau" and when close to, a boat came out to us with natives in it. Upon seeing Mr Shand, they took off their hats before shaking hands with him. John Kanaka was one and Tamihana Father was the other fellow. They came onto Kaingaroa. Oh, Off Patiriki, the snow white shores with evergreen foliage down to the sands was the most beautiful shores that I had ever seen before.
We landed at Kaingaroa on the 15th February, 1864.
The Customs Officer, Pamiriki, with a gold band around his cap and yellow buttons on his jacket, steering a whale boat with crew, came on board and took us into the Harbour and ankorage. I was struck by the respect they all had for Mr Shand, taking off their head gear before shaking hands with him.
Here, the "Wild Wave" lay for fourteen days. On the last day, she loaded up with cattle as fine as I have ever seen. Great big bullocks and fine cows all fat. Capt. Ifwerson went on shore some days for an hour or two. Old Pene, a parson, and Ikahara came off nearly every day for their dinner They could speak a few words of English, we had great fun with them. One day, the Capt. and were invited over to "Te Wakarah', Mr Shand's home. The dwelling, cottage shape, was small. There were two outhouses, all built by the German Missionaries and sold to Mr Shand. Capt. and Mrs Thomas, R.M. & Collector of Customs, was there on a visit. Such a household of youngsters, white heads all around the corners of the place. Afterwards, I learned the number was nine daughters and three sons - a family of twelve.
The goods were all landed and put into Pamariki's charge to sell if he could. Alec Shand was going amongst the natives to get land for me. One day, he took me to Horomonga with the Chief Mathew to all the land on the "clears" from Rotoma to Lake Omega I was to have for 5 Pounds per annum. Alec Shand pointed out "Okawa" to me and said that he intended to have that for himself. Next day, when the natives had heard what the Chief Mathew had agreed to, they kicked up a row about it so it fell through and there was no land to be got.
The goods were not sold as the Maoris had no money until their potato crop was ready to sell. Mr Shand's family would not go to NZ or leave the Chathams, so it remained for Mr Shand to ship what cargo he had, back and return it. It was settled to ship cattle, so the vessel was made ready. Cattle was loaded and on the last day when I was on board ready to return having got nothing, a young Maori, Heremaia, whom I had never seen before and could speak a lot of English, came to me to know if I was going back on the vessel. I told him I wanted land but could get none, so I was going back to NZ. He said, "suppose I want a vessel to come here, you find a vessel?" I said, "yes, plenty of vessels if you find the cargo to fill them up!" "Oh," he said, "my Father got the land, he give it to you if you stop." I went to Mr Alec Shand and told him what Heremaia said. After Alec had talked to him, he returned to me saying "that was the point of land I told you I intended to get." I turned to Heremaia and said, "no I won't have that land as that is the land for Mr Shand." Then Heremaia went for Alec in Maori that I did not understand. But I found out afterwards that Heremaia told him that if I returned to NZ, he would turn the Shands out as Heremaia owned the "Whakaruru" where they lived. So Alec then beseeched me to remain, that I could have Okawa and there would be no trouble over it. It was settled as the last cow was taken on board and the anchor being weighed. I got my boxes into the boat to go on shore. Capt. Iferson was surprised and tried hard to persuade me to come back to NZ but when I reached the shore, the "Wild Wave" was way outside the Harbour .
It was February 1864 and here I was actually landed on the Chathams.
I had only seen a few Maoris in Lyttelton from Papaki before coming to the
Chathams. I had never seen a tattooed Maori before and there were plenty of tattooed Maoris there. All the old people were tattooed. I didn't like them but I could not help it. I learnt from Mr Shand that they were peaceful and quiet and had what he called "a show of religion" which afterwards, seemed real to me.
My coming ashore in the last boat was a surprise to Mr Shand who thought me a fellow passenger. His son Alick, seemed outwardly pleased. Mr Shand ordered Alick to take me home with him to "Te Wakaruru". I hated to have to live with the crowd that I had seen there. But when we got to the beach, Alick told me they were full up at "Te Wakaruru" having Capt. Thomas and Mrs Thomas staying there but would arrange with Pamiriki to look after me in the meantime.
It was just getting dark and I was invited to have "kai" (or tea) but declined having no appetite. I asked where I was to sleep. Pamiriki showed me a room off the great big apartment which was a cook-house, dining and sleeping quarters of their own. My bedroom had a big box shaped bedstead, having a good bed on it filled with feathers, new blankets, no sheets and the bedcover made of dungaree, such as I had never slept in before. I turned into bed. After Pamariki had "kai', he and a lot of them came into my bedroom and squatted upon the floor. They brought a white man in to talk with me, as he thought, for company I suppose. (Little did he realise that I wanted to be alone). This man was a carpenter that had seen work on a boat.
I was a "New Chum" only three months in Lyttelton before coming here. This carpenter was a German of the name of Enhst. He had been on the island since before I was born. He was, or had been, one of the German Missionaries that settled on the island. He was inquisitive about Mr Shand and the goods he brought across. So I could only tell him the truth, that Mr Shand had bought them from Hall, Ritchie & Co. and brought the vessel down to fetch his wife and family up to Lyttelton where he had a home ready for them and that they would not go.
Next morning, Mr Engst and I had breakfast together, a goods-case for a table and sat on boxes. I was very hungry having had nothing to eat since I had left the "Wild Wave". Well, I was very thankful for the potatoes in-their-skins and salt. The tea was simply hot water poured into a panikin and sweetened with dark brown sugar which made it look like tea. Also dried smoked eels looking very black such as I had never seen before. I passed! Engst seemed to enjoy his meal. I finished up with a drink of water outside.
Alick Shand and Heremaia came on horseback leading a horse for me. We rode to Okawa. I was pleased with "Okawa". It was like a park where the Maoris had lived but had left for Kaiangaroa. There was a lot of English grass. The rental was 5 Pounds per annum. I returned to "Omahana', Heremaia's and his Father Katene's home. I enjoyed a good meal pot of a tin dish and milk to drink.
This is where I am to live. There was, what had been a house, on the deck of the wrecked "Sevastapol" - eight feet by seven feet. It was away from Katene's Whare. All it needed was a floor and as soon as Mr Engst, the carpenter had finished the boat, he would do it. I was to live in it and get potatoes and milk free, but to pay 3d per lb for pork etc. A "Kanaka" called Harry, who could speak broken English and had been a cook on the "Sevastapol', was to be my cook. He was married to a Moriori slave of Katene's called Tarina. I soon got my blankets and hammock up in Katene's great house or whare. One end had windows and a floor. It was all open inside where they lived. I had the floor end and the windows.
Engst came after finishing the boat which took longer than expected. I got a lot of information from him about everything and everybody on the island etc. After the floor was completed in my little house, Mr Engst invited me to walk home with him to Waitangi, the Capital where he lived with his partner, Mr Baucke, who had a wife and family. I accepted his invitation and walked with him. The first day, we passed the Matarakau Pa, Taupika Pa, to Wharekauri Pa. We slept in a white man's house, "Wharekauri Bill" and his mate called "Jim', a black man. Engst and I had a shake-down on the floor. In the morning, after kai, we left for Waitangi. We first went in a straight line across the "Clears" to the big lake, "Te Whanga Lagoon', then around the lake past Waipapa Peak then made a straight line to Mouroa, where we got on the horse track, through the big bush, on to the road across the lake and finally came out at the Bluff Pa.
I was made welcome by Mr Baucke and family at Mangapai. He had a family of six boys and two girls. They all talked German, the common language of the home. He remarked that they spoke German for the sake of the children. As for English, they learnt it quickly. While here, the schooner "Ceceillia" with Capt. John Blair, came into Waitangi with a load of sheep from Pitt Island, purchased from a Mr Hunt - by the maoris.
The next day, we went to Mongutu and saw the sheep that had landed, looking very sickly. I met a John Alexander and his wife who lived in a small two-roomed house while he was building his own home as he was a carpenter. I did not see anyone from the vessel "Cecillia". While at Mangapai, Baucke talked in German and Engst would interpret for me. Well, Mr Engst and his partner told me that they had agreed to give me their flock of sheep of 200 odd that were running at Monganui if I would import rams and look after them and then give them half the nett proceeds. It looked a fair offer and I looked pleased but I told them I would think it over. I was guided not to accept it. I walked back to Kaingaroa, across the big lake, guided by written instructions which Mr Engst gave me. I got back to "Omahana" that night without trouble. The trip was most interesting and I learned a lot about the island but not withstanding, I was not at all satisfied and had the chance occurred then, I would have cleared out.
When the "Cecilla" came into Kaingaroa, Capt. Blair came to "Omahana" to see me saying "I hear you have just bought some land and want some sheep. I have just brought over some sheep from Pitt Island. With the ship being "fitted up" for sheep, I can bring you 150. Mr Hunt wants to sell his sheep and charges 1 Pound per head. I will charge you 2/5 or 3/6 per head. I will also give you a free trip to Pitt Island even if you don't get the sheep." Now nothing could be better and even more to my liking and gave me a new heart.
After a few days, I sailed with him to Pitt Is. calling in at Owenga where we went a shore. The Capt. went to a Pa there and took a lot of goods to sell to the natives. It seemed more to me like throwing the goods away. He distributed them right and left without making a note of who got them. Some of them came to him saying that they owed for a pair of blankets or a pair of trousers that they had got from him a long time before. Capt. Blair would turn to me and say, "this is an honest fellow, I had forgotten all about it." It struck me what he was letting them have and forgetting all about it.
We got away for Pitt Is. in a calm sea and arrived just at tea time. After that, Capt. Blair got ready to turn in, but sat on the side of his bunk in his underpants and shirt and talked to me. It seemed to me that he only wanted some one to listen to him. All his conversation was about Mr and Mrs Hunt and their three lovely girls and how he loved the whole three of them. I thought this very flippant. All of a sudden, the Mate called down the companion-way saying that there was a squall coming up. But the Capt. replied "It was nothing." Having been calm, all sail was up. The Mate called out again "a squall is coming up." The Capt. again replied that it would be nothing. Then all at once, the vessel was thrown on her beam ends. The Capt. was thrown backwards into his bunk, calling out "Let go this, or let go that." He got on deck in a hurry, still in his underpants and shirt. I being the only one left in the cabin, got up into the door of the companion-way ready to jump out if necessary. The orders came fast and mostly "land here" or "land there" as the vessel went running through the water at a terrific rate. The Capt. was in the Bow and kept asking the man at the wheel how she was heading and keep her running so-and-so. This went on for sometime before the vessel was on an even keel again. Well, when the Capt. came down into his cabin, still in his underpants and shirt, he looked as if he had come out of the sea, and he was calling the Dutch Mate all sorts of things and accusing him for us nearly being on shore, near cliffs etc. etc. It would have been his own fault, his own carelessness, and I had my own thoughts about him.
Next morning, we got into "Flower Pot" but Mr Hunt was away at "Glory". Now this sounded very strange to me, but I learned that the bay was called after the Brig. "Glory" which had been wrecked there. Mr Hunt had a very nice homestead, with a beautiful flower garden in front. Mrs Hunt was a fine looking woman. There were three daughters and three sons. A Mr Emery was their Tutor, and there was a visitor, a Mr H. Travers, an American, and some whalers. Another homestead where Mr Fred Hunt, father of Mr. Thom Hunt lived. Another homestead where a Mr and Mrs. Regnault lived with four sons and four daughters. There were a lot of Maoris living on the island. Mr Hunt sold me 150 sheep and one ram at 1/- per head. (I expected only to pay 3/6 per head.) A whaling ship came into Flower Pot, the "Darnal Wood" with Capt. Richmond sometime before, so Hunt got the whalers to help ship my sheep.
On Monday, 17th March 1864, the sheep were shipped and we left for Kaingaroa. We arrived after dark at Kaingaroa so on the 15th, the sheep were landed. (Lost five sheep.) We drove them to Okawa. I got a Maori to help me. No one seemed to give a hand without payment. We had no dog as there did not seem to be any sheep dogs on the Island, only pig dogs. There were a few sick sheep which I left at Kaingaroa After feeding on ake ake leaves for a day, I was able to take them to Okawa on a rope. Then I had plenty to do looking after them. It commenced at daylight, when I went to Okawa to round up the sheep.
I returned for breakfast of potatoes, pork and milk (no tea or bread). I took potatoes to Okawa to roast for dinner which I had learned from the Maoris. I had an old Maori garden at Okawa which I put the sheep in at nights and let them out in the mornings before breakfast. I had to yard them at first by making leads of brushward on each side of the gate like a race, and what a lot of running from side to side before I got them in. I would put my coat on a stick in the ground at one place where they would run away to, my waistcoat at another, cap and pocket handkerchief at another so I was able to run in shirt and trousers and bare headed. After a time, I was able to yard them without any trouble. I became careless after a few days, and did not yard them. I came to Okawa and could not find a single sheep. I went all over the place, to "Houmaya', and the next day to "Matarakau', on the "Clears" ?... no sheep. Of course, I asked all who had small flocks, but no one had seen them. Well, I went back to Okawa, rather depressed, but to my delight, there they were, all my sheep.
After a day or two, they disappeared again. I was determined to find out where they had gone. So I searched until I found them. On the extreme point of Okawa where there was nothing but rocks and pipi shells, there they were, all lying so nicely, where they could not be seen unless going right up to them. I left them there but how thankful I was that I had found them all right after being in the depths of despair over loosing them.
There was a great number of large bullrushes on the grassland, so my daily work was......
---
Contact us at cole@familycole.net Return to Home Page