La Spezia
La Spezia was a dawn approach and very thrilling in the knowledge that there was a full day of shore leave ahead and a fine day promised. There was some entertainment at the security gate where the three officials eagerly competed to provide Brigitte with information, very earnestly looking up phone numbers and proffering information on the best seafood place to eat, which turned out to be at Porto Venere. My first choice was the "five villages" or Le Cinque Terre that looked to be fantastic. I thought I might hire a small boat and visit some of them by water which would provide photo opportunities or the other choice was to go to Porto Venere, a very quaint little port I had seen as we came in earlier and had read a brochure on. In the event there was a bus and train strike and our only real option therefore was a ferryboat trip to Porto Venere leaving early afternoon.
Till then we went our separate ways and I had a lovely time wandering about the city with plenty of time to do the mailing from the Post Office and to have the first leisurely Internet Cafe visit of the trip. The cafe was just a plain little computer-crammed room adjoining a pub, the bar of which featured a girl sitting on the edge of a pink convertible. I then took Italian coffee, a local red wine and a bread snack under a street awning outside. Wafting down from an unseen room along the street came the unmistakable strains of Moby singing Sausage Dog - so incongruous - where was the Italian fiddle or the opera singer? I loved it.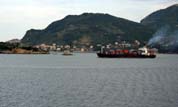 I reached the Albatross just before its departure. The photos I took as we motored to Porto Venere were better than earlier distant ones of that shore that I had taken from the ship so later I was able to substitute them. As it was I took 230 shots that day, which were later whittled down to about 160, still probably too many but it is hard to be objective so close to the event. What a superb day I had.
---
---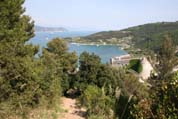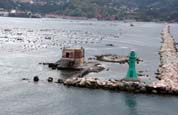 After looking about the town and having a bite to eat I left the tourists behind and headed off up the hill beside the castle and then away up a rocky track leading to a ridge that ran along high above the coast towards Le Cinque Terre some hours away. I kept going hoping that there would be views up the coast but the track was just below the ridge looking out on the harbour side and I had to eventually give up. I passed a point where I was looking directly along a breakwater on the opposite side of the harbour that we had passed in the Marfret on the way in, either side of which had extensive mussel farms. Up high the track was in scraggy pines with light dry undergrowth while further down the stone terraced hillsides were in olives.
On the way up the first steep part of the ridge I had noticed at regular intervals a series of peculiar round holes with a square recessed within chiselled in the rock and wondered if they were base holes for posts of some sort. The answer came in finding a stone hut containing the remains of an old steam engine and gear and pulley wheels. There must have been a pulley and cable system at some time in the past for moving things up the ridge. I wondered if it was some activity from the last war.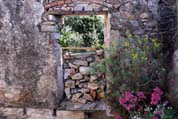 Above Porto Venere were a number of abandoned and ruined houses with signs that they had been camped in by vagrants and just above the castle was an attractively curved wall with wind bent scrub forming a natural roof overhead. I scrambled in to find myself in the small encampment of a hippy lady. She had a couple of timber shelves in against the stones of the wall where there was propped a fragment of broken mirror, food tins and various unidentifiable sundries. There were two small tents and a bit of clear plastic over a pole forming another shelter so she must have had companions sharing the place. I would love to have photographed her in her dell but as pleasantly and respectively as I could I apologised for invading her privacy, shook her hand and took my leave.
My next discovery was the precipitous track down to some caves that had been mined out of the rock, perhaps to provide limestone for building, I've no idea. This led me around above the cliffs to the local cemetery. There was absolutely no (living) person there so I was able, quietly and somewhat in awe, to enjoy the tranquillity of a most unique and no doubt sacred place. The day was getting along so I knew I had to push myself to see the remaining sights in time for our dinner rendezvous where we had previously made a booking for 6.30.
Apart from the fact that I was at dropping point - it had been incredibly hot and hard going - I found my timing had turned out to be fortuitous. The tourists had mostly departed and I had the Doria Castle all to myself without the usual problem dodging others for the photos I wanted. Lovely cameos were presented by looking out of castle apertures designed for defence and once manned by crossbowmen and harquebusiers. The round towers further down were the bases of a couple of old windmills and to the left along a walled and rock-paved path was the local church the San Lorenzo that unfortunately was now closed.
---
---
However I again had an area to myself except for an old man filling a plastic container from a communal tap that also provided me with a much needed drink. I had carried no water and was a little parched. I have a brochure and will not bore you with information from it, though I found it very interesting just the same. A billy goat trotted along the top of a wall begging I guess for something to eat. He didn't look starved but I was and probably looked it. Right at the bottom on a rocky point at the seaward mouth of the harbour was the church of San Pietro. There a small tour group of men were scrambling over the place, all dressed in some alpine national costume that included snazzy felt hats rakishly sporting pheasant feathers, braces and belts, knee-high hose and shining leather shoes. They looked as if they were especially commissioned to provide atmosphere.
---
---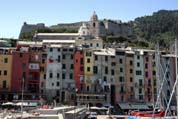 The boats you see along the waterfront are not for tourist window dressing but are the local fishing fleet and there are blotches of paint on pavement and limestone rocks where they carry out their normal maintenance. They still used thole pins rather than rowlocks against which to pull their oars. Just before our meal our chef walked out to the end of the jetty to collect a bag of fresh mussels so I had to order those. They were very small black shelled ones and quite nice. I also had prawns or langoustine. They were good too but the legs were a challenge to my teeth and I had to desist for fear of doing serious damage.
We left Porto Venere in good spirits for a Monte Carlo Rally ride with a casual middle-aged Italian woman taxi driver who ripped around the narrow hillside road glued to the tail of a carload of young people tearing along in front of us. I was glad to be in the back seat and even more glad to alight at the ship.
---
Contact us at cole@familycole.net Return to Home Page