Mac Cole 1912 - 1987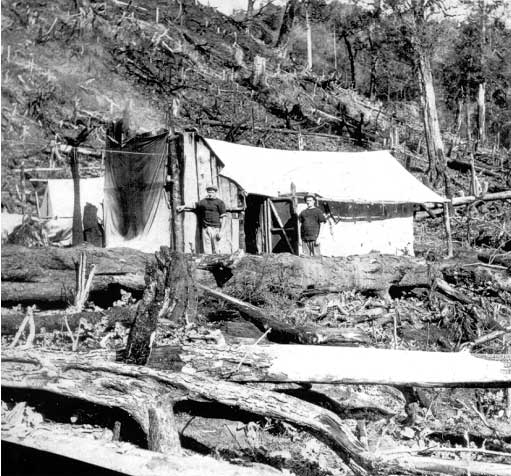 Neighbours Len Parks on the left and Bill Gillespie in front of the Cole's main tent
Presumably the canvas against the fireplace end was to keep wind from
blowing through the cracks.
Mac, christened Claude McMurray Cole, was born February 19th 1912 in a tent amid charred stumps and fallen logs on a pioneer King Country farm in the Paraketu Valley, Waimiha. The previous year his parents had taken up an eight hundred-acre block of steep bush-clad hill country located about mid-way between Taumarunui and Te Kuiti. Blanche and Bob (Robert Bell, or RB as he was known) had five older children: John (Jack), Thelma, Charlotte (Lottie), William (Bill) and Richard (Dick).
The family first lived in three ridge tents. Water had to be carried in buckets from a stream and the cooking done at one end of the main tent in three camp ovens in a huge open fireplace above which was suspended a large kettle for hot water. This tent had a wooden floor and the kitchen area was lined with vertical slabs of split timber. The other end was partitioned off as the parents" bedroom. In between was a living and dining space along one side of which they stored their saddles and bridles. An air space between the tent roof and the tent fly prevented condensation being a problem and kept the interior cool in summer. Behind was a boys" tent and a girls" tent, one of which contained a seldom-used colonial oven.
His sister Lottie describes the access in an account written in 1983:
In 1912 the Paraketu Road was within a mile of the head of the valley and we used a bridle track, over and under logs round and about stumps to reach our home until the road was formed and the wagon could bring the timber from Parks" mill for the house - horse transport gave way to motors. Dad's old Ford was the first in (about '20 I think) and over the bad old road too, but "Maggie" as we called her took everything in her stride.
Mac, the youngest child by seven years, was undoubtedly indulged. He was fair-headed and affectionately called Snowey by his very much older brothers and sisters. His big sister Cita (as Thelma was called) still addressed him as Snowey in a letter written to him from Te Kuiti on his turning twenty and enclosed a page of sketches she had drawn for his entertainment when he was a two-year old and she sixteen. Also enclosed were a couple of early letters of his. (See next page) The rest of the family eventually dropped the endearment but Thelma never did. Mac chose "Mac" rather than Claude for a first name, possibly through a youthful need to distinguish himself from Claude Burley, his mother's much-loved little (and only) brother. Lottie took some of the early family photographs and developed them at home.
| | | |
| --- | --- | --- |
| | | |
| A sheep pen as a playpen - Mac's father in the background | It was usual for little boys to wear dresses till the age of four | Mac and his mother at the Paraketu Homestead |
---
Thelma's Letter from Te Kuiti dated 19/2/1932
Dear Snowey,
Greetings for your 20th.
Intended writing for instead of on your birthday.
Being your big sister for so many years, I naturally had a good deal to say & as much do as was possible in your "broughtens up". Please note by enclosed that 18 years ago today I was drawing pigs, cats, chickens, trains, sheep and ducks for your entertainment. I defy you to discover anything but the pigs and of course the trains: it used to be "nozzer pusey, nozzer pig, nozzer twain", etc.
The letters were written to me while I was house keeping for Jack in Ohura. One ends
with a sketch of Jack's partner's daughter Joan in the bath.
Your reference to the rounders had a sequel ... your side was on the lead until you accused the opposition of cheating, thereby forfeiting your score!
You were the great age of 9 then. I remember snorting at your quotation a year later: "Young pimp"![1] I called you and Jack and I had a great laugh.
I want you to keep these enclosures because sometime a woman will treasure them because they are yours and a link with the past she could not share.
I don't know if you remember the last time you skinned your nasal appendage but I well remember the first time! We giggled joyfully every time we looked at it, much to Mother's indignation.
A good thing the Cole men are lean stomached for imagine yourself in old age with a nose & a stomach!
The Cole method of demonstrating family affection is by abuse.
When you are being discussed I say "he's not bad because we helped to bring him up but we had nothing to do with his nose!"
"Not bad" is absolutely the highest praise one Cole can give another ... I've heard Dad and Aunt Lizzie[2] at it too.
Fortunately the Cole has dominated the Burley[3] in the sentiment at least!
You added much to the families happiness & amusement & that nice feeling when we foregather en masse.
Salut. Cita.
---
Contact us at cole@familycole.net Return to Home Page